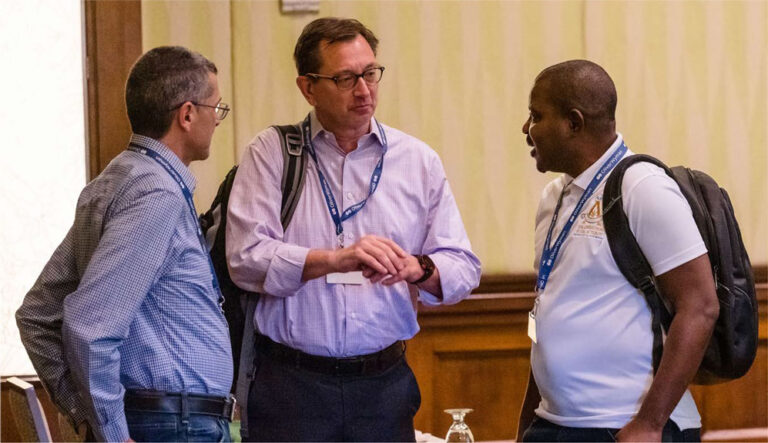 In early December 2021, CAS Asia Ambassador Ron Kozlowski, FCAS, and I attended the 32nd Caribbean Actuarial Association (CAA) Conference in Barbados. The CAA covers all the Caribbean islands and has members from the Caribbean, Canada, United States, United Kingdom, France, The Netherlands and other countries who have links to the Caribbean. The CAS was a Silver Sponsor for this conference of over 200 attendees that covered many issues, including social security and pensions, climate change, sustainability, IFRS17, COVID19, inflation and sovereign credit risk, and banking.
A brunch with a Q&A session kicked off this three-day event. Conference participants posed questions on strategic direction and key initiatives to presidents of the CAA, Society of Actuaries, the CAS, Canadian Institute of Actuaries and International Association of Black Actuaries.
A professionalism session was held on the afternoon of the first day. Kozlowski and Marcus Brosland, who is a resident actuary at Colina Insurance Limited in the Bahamas, hosted "Professionalism: A Deep Dive on the Code." The session was based on the popular CAS professionalism session but adjusted for the CAA's code of conduct. It included a discussion of when actuaries get themselves in trouble from the Actuarial Board for Counseling and Discipline (ABCD) 2021 Annual Report. The second session was presented by Michael Tichavera of Claxon Actuaries International, who spoke on professionalism challenges in banking.
Dave Oakden, FCAS, and Kyle Rudden, ACAS, FSA, participated in the session "The Role of the P&C Actuary in the Caribbean," which covered potential approaches for increasing the use of P&C actuaries in the Caribbean and discussed requirements for P&C reserves certification in Jamaica and Trinidad. Oakden chairs the Board of Commissioners for the Financial Services Commission of the Turks and Caicos Islands. Rudden, managing director and consulting actuary at KR Services, is the CAA immediate past president.
Nancy Watkins, FCAS, issued a rallying cry for actuaries to get more involved in climate change and sustainability issues in the presentation, "Actuaries and a Sustainable World." Watkins is a consulting actuary for Milliman.
The third pillar of the CAS Strategic Plan is to increase our influence in P&C actuarial work internationally. The CAS values our relationship with the CAA and looks forward to continued collaboration to lift the value of P&C actuaries in the Caribbean. If you are from the Caribbean or do work in the Caribbean and want to be involved in CAS/CAA relations, please contact Ron Kozlowski at ron@rtkservices.com.
Scenes from the 2022 Caribbean Actuarial Association Conference