For my President's Message columns, I will be talking to distinguished actuaries who embody the new Envisioned Future for the CAS. Videos of these interviews will be available as Web Exclusives on the Actuarial Review website and the CAS YouTube channel.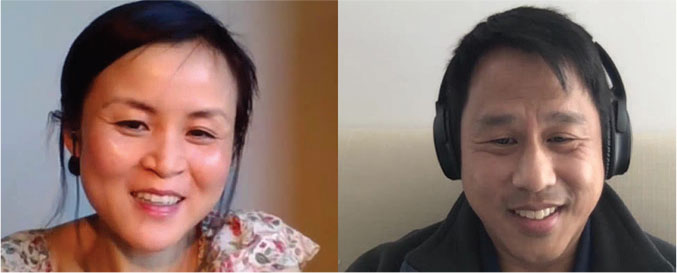 Frank Chang found his way to the actuarial profession by following insurance stocks for The Motley Fool. He traded piano lessons so he could study for his first two actuarial exams and taught himself Python at age 40. Now he heads up the Department of Safety and Insurance Analytics at Uber. He's the first subject in a series of interviews to highlight the CAS's new Envisioned Future, which says: "CAS members are sought after globally for their insights and ability to apply analytics to solve insurance and risk management problems."
Jessica Leong: If I'm sitting in an Uber, what would I notice that you and your team have done to make my ride safer?
Frank Chang: A lot of the safety features. So, for example, the safety center that you see in the app that you can find at the bottom, the SOS button that's in the safety center and a few of the newer features we've launched.  Some rides actually have a PIN confirmation where you can make sure that you have the right driver. For COVID, there are photos with mask detection to see if folks are wearing their masks, which is required in all Ubers.
JL: You made your way up from director of actuarial services to the head of safety and insurance analytics at Uber. How did you manage to take on bigger and bigger roles?
FC: You have to be intellectually curious … I've said this before to other actuaries. The actuarial exams are a good preparation for a wide variety of subjects. We could always ask, "Why do we need to learn regulation on our exams?" But if you dig into that, you then become an insurance professional. When you leave an insurance company, folks don't really understand insurance.
Both the insurance and data science aspects of my knowledge base improved because folks were asking, "Can you solve this?" and "Can you solve that?" You have the competitive advantage here. From that I was able to get into Uber … Insurance and safety merged, and I was able to credibly talk about safety. We deal with rare events all the time [as actuaries]. Not very many data scientists out there are used to it. They don't know the difference in errors. They don't have the thought of how to cut your data, so you have homogeneity and credibility at the same time.
JL: What you're saying is "play to your strengths." We have this very deep knowledge in insurance and that is sought after outside of the insurance industry. You also taught yourself the data science skill set.
FC: I did teach myself Python at Uber at a fairly ripe age. I started at Uber when I turned 40.  So, it's never too late! I learned Python from scratch there.
JL: Let's go back to the beginning of your career. You did a Ph.D. in math and you also studied music and Chinese.
FC: This is hope for all the career changers and late bloomers out there! I got a Ph.D. in math. I'll be completely honest — my parents pushed me to it. I'm the oldest child and my parents both have Ph.D.s. It was a very typical Taiwanese-American household, where they're just like, "We both have Ph.D.s. This is the path that we know, son. You need to go get a Ph.D." And so, I did. By hook or by crook, I finally got one. When I graduated and was trying to find a job and — oh my goodness — that was really difficult because now you have this huge academic degree. You don't have a whole lot of communication skills. You make things way too technical because you're used to defending your thesis or arguing with your advisor.
I was a stay-at-home dad and I found work at The Motley Fool monitoring their online discussion boards. The only pay that they gave was free subscriptions to all their newsletters, which I consumed voraciously, and so I got into stocks and that was how I discovered the actuarial profession. The stocks I covered were financial and insurance stocks. I read a lot of reports that talked about actuaries and had these numbers shaped like triangles. And I said, "Wow! That's really interesting. Let me see if I can learn more about this."
I do have a degree in music, so I taught piano lessons while I was a stay-at-home dad. I exchanged lessons for childcare, so I didn't take any money. I used the time that folks watched my kids to study for the first few actuarial exams. I took Exams 1 and 2, and I got a job at Esurance.
JL: I read some of the [Motley Fool] posts. You seem to know a lot about insurance.
FC: Wow! That's a blast from the past! I read all the 10-Ks, all the 10-Qs and a bunch of books that Motley Fool recommended … I read One Up on Wall Street and The Davis Dynasty, which is about Shelby Davis, who invested in insurance. There was a lot of stuff about Jack Byrne, whom Warren Buffett calls the "Babe Ruth of Insurance." So, yeah, I did a lot of studying about the industry before diving in.
JL: So, in terms of CAS members learning more about the industry, is that what you would recommend? Read the books? What can they do on the job to learn more about the business?
FC: I'm going to start with the folks who work at [insurance] carriers because that's how I came up and that's near and dear to my heart. For those insurance carriers, learn what you're selling. Read the policies. Figure out what the endorsements are. Befriend your stakeholders. For consultants … get yourself out there. Don't network just within your consultancy. You have clients and those clients may have friends and, if you get enough of a network, you're going to be able to touch different parts of the industry that … others would just not see.
JL: Your Motley Fool profile a long time ago recommended The Now Habit. I actually borrowed it from the library. Should I read it?
FC: Absolutely! Oh my gosh! Every exam-taker out there should read The Now Habit! The "unschedule" is a good technique for anyone who has a problem with procrastination. Why I recommend it to exam-takers is, clearly, the people who are taking exams have the cleanest apartments or they have the best homemade bread.
Getting More by Stuart Diamond is one that I recommend a lot. That's a book about negotiation. It's not just about hard negotiation, but about getting more. One that I've read a few times is Crucial Conversations on Communication — a very good book about not treating folks that you're talking to as if they're villains or treating yourself as a victim when you go into a hard conversation. As actuaries, I feel like we do shy away from hard conversations. The HBR Guide to Office Politics is also an important read. [It's] not a book about politics, but about how to survive at work honestly, how to deal with difficult situations and how to carry yourself as a leader. It's about a lot of things that you learn on the job, but it's all one book. It's fantastic!
JL: The CAS recently launched its new Envisioned Future that says: "CAS members are sought after globally for their insights and ability to apply analytics to solve insurance and risk management problems." I want to get your take on our Envisioned Future and what things you feel that we need to overcome at the CAS to really make sure we're heading towards our Envisioned Future?
FC: I recently read a Harvard Business School paper about Ron Johnson, a fascinating guy who worked directly with Steve Jobs to get all the Apple stores out. He was seen as a retail genius. JCPenney, which was struggling at the time, had brought him in and he lasted 18 months. He tried to move too fast and disenfranchised his core customer — the people who looked forward to coupons, sales and deals. At the very beginning, he said, "We're not going to do sales anymore. We will remove that from our vocabulary. Everything is just going to be everyday low prices," and it just didn't work.
[At] the CAS, some of the things we need to do is … make sure that we are still the Society that supports the folks doing traditional pricing/reserving. We cannot lose our support for that important function. We are the actuarial society and that's core actuarial work. So, we need to manage that while also being able to attract new customers, right? And we already have some. You heard Elon Musk talk in his earnings call about how much he likes actuaries. And so you see more and more folks demanding actuaries in their jobs. How do we support that? How do we encourage companies that are not thinking about actuaries to think about hiring actuaries? How do we encourage actuaries to learn the skills needed for those slots? … In order for us to succeed, we need to have a strategy for how we do that expansion. What is that expansion about? What are the analytical skills we're going to teach first? … We already have the Certified Specialist in Predictive Analytics (CSPA) through The CAS Institute. Do we leverage that and make that into a more scalable set of exams that help actuaries prepare for these jobs? Those are some of the things that we have to overcome that we haven't thought about in the past.