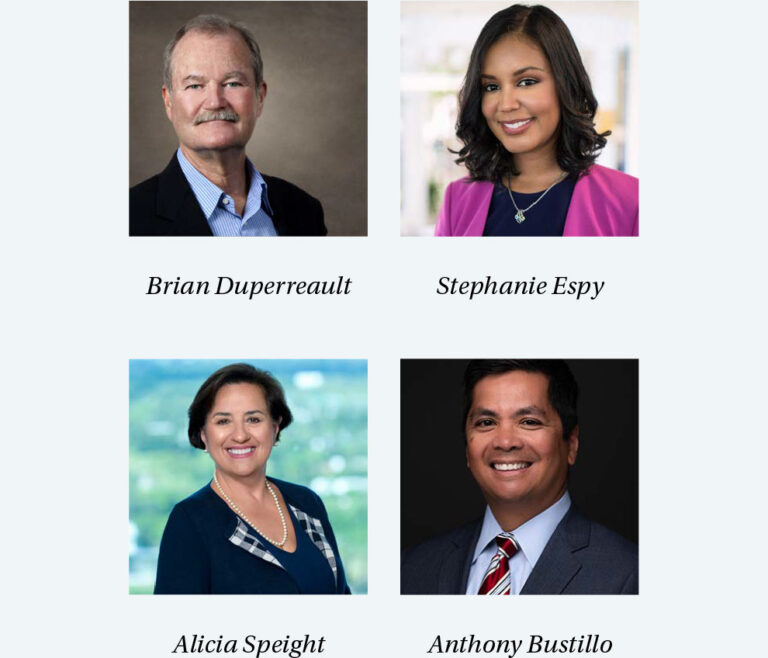 The Casualty Actuarial Society announces the appointment to the CAS Board of Directors of Brian Duperreault, ACAS, former CEO and executive chairman of American International Group, Inc. (AIG); Stephanie Espy, founder and CEO, MathSP, LLCM; and Alicia Speight, a senior insurance executive with WTW. The CAS also announces the appointment of a new vice president-professional education, Anthony Bustillo, FCAS, to the CAS Executive Council for 2022-2023. These appointments began on November 9, 2022, at the close of the CAS Annual Meeting. 
Duperreault is the former CEO and executive chairman of AIG. Prior to joining AIG, he was chairman and CEO of Hamilton Insurance Group. He also served as president and CEO of Marsh & McLennan Companies and ACE Limited. Duperreault is a member of the boards of the Geneva Association, Saint Joseph's University, the Bermuda Institute of Ocean Sciences (BIOS) and the Partnership for New York City. Duperreault earned his bachelor's degree in mathematics from Saint Joseph's University in Philadelphia. 
Espy is the founder and CEO of MathSP, a STEM academic coaching and test prep coaching company empowering the next generation of STEM leaders through a foundation and concept-based approach. She is also the executive director of STEM Gems (and author of the book with the same name), which focuses on exposing girls and young women to STEM careers and inspiring women in STEM. Espy holds a bachelor's degree in chemical engineering from the Massachusetts Institute of Technology, a master's degree in chemical engineering from the University of California, Berkeley, and an MBA from Emory University. 
Speight is an executive with more than 40 years of experience in brokerage, risk management and underwriting. She currently oversees WTW's operations in Florida and is responsible for driving growth across the company's core business segments in her market: risk and broking and health, wealth & career. Prior to this role, Speight held senior managerial roles at Crystal & Company, Gulf Insurance and Johnson & Higgins. In addition to her business role at WTW, Speight is heavily involved in all aspects of inclusion & diversity as a member of the company's North America I&D Council and has led the team in the DiveIn Festival for more than five years. She also sits on the Insurance Advisory Committee for the Boy Scouts of America (BSA) and on the Board of the South Florida Council BSA. Speight holds a bachelor's degree in quantitative analysis from St. John's University and an MBA from Pace University. 
Bustillo is deputy chief risk officer at Safety National. He earned his CAS Fellowship in 2005 and has extensive volunteer experience, serving as chair for several CAS professional education working groups, including the Casualty Loss Reserve Seminar Joint Program Committee, the In Focus Seminar Planning Committee and the Microlearning Working Group. Bustillo will replace current CAS vice president-professional education Amy Juknelis, FCAS. 
In addition, the CAS Board reappointed the following incumbent vice presidents to the CAS Executive Council: 
Kendra Felisky, FCAS, vice president-international 
Kimberly Guerriero, FCAS, vice president-marketing & communications 
Mary Hosford, FCAS, vice president-administration 
Jim Weiss, FCAS, CSPA, vice president-research & development 
William Wilder, FCAS, vice president-admissions 
"These experienced individuals will provide important contributions to our work at the CAS," said Kathy Antonello. "Their knowledge across a variety of insurance, business and quantitative areas will bring critical insights to our future projects."