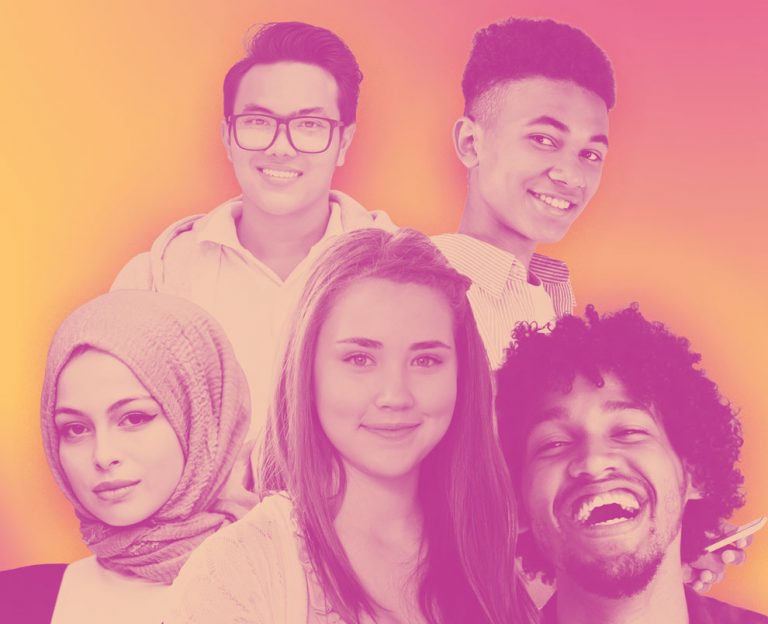 Generation Z is entering the personal lines insurance market at a time when insurtech products are vying for their attention. Earlier generations were introduced to similar aggregated data-based products adjusted by risk and augmented with features. But Gen Z can choose from newer insurtech products that emphasize coverage by risk factor and specific use as well as other customer-centric approaches.
Born between 1996 to 2015, give or take a couple years, Generation Z is the most ethnically diverse and largest generation in American history. Also known as digital natives, Gen Z makes up 27% of the U.S. population, according to
businessinsider.com.

"The insurance industry is underestimating Gen Z [and] how they can change the market," says Steve Armstrong, vice president of product operations for the Allstate Corporation and president-elect of the Casualty Actuarial Society. "Gen Z [has the] firm belief insurance can be done better with more efficiency."
Insurtech companies are betting that Gen Z will prefer customer experience with regular contact, from initial sale through the claims process and renewal, via multi-channel, digitally based transactions. There is also the presumption that this generation of consumers will be willing to share personal data to customize products.
Taking a cue from insurtech concepts, some traditional insurers are also jazzing up their game. Some are developing innovative new products and services using insurtech partnerships and cloud-based, digital technologies to meet customer needs, expectations and experience. Others are forging partnerships with or acquiring insurtech companies and technologies to be more competitive.
"Getting the tea"* about Gen Z's preferences starts with appreciating how they differ from previous generations and how that could shape their choices.
The Gen Z Difference
"Each generation's persona is shaped by events and conditions during their formative years," explains David Stillman, co-author with his 20-year-old son Jonah of Gen Z @ Work. "If you try to market to Gen Z like millennials, it will not work," Jonah Stillman warns, because Gen Z is more focused on survival and practicality while millennials desire meaning and passion.
Among the several influences on Gen Z, three will most likely have the greatest impact on personal lines insurance: Gen Z's primarily Gen X parents, the economy and continuing technological change.
Born from about 1965 to 1982, Gen X became job-seeking adults when the prosperity from the Post-World War II economic boom was over. "Gen X is being squeezed financially," says Warren Wright, who refers to Gen Z as second-wave millennials. He is founder and CEO of Second Wave Learning and author of Second-Wave Millennials: Tapping the Potential of America's Youth.
Even though Gen X was the only generation to fully recover their wealth after the Great Recession, Warren explains, the value of their capital assets, like their house and stocks, have not had time to accumulate into a decent amount during a long period of time compared to baby boomers. "So even though they 'recovered' their assets, their assets are not large," he explains. Watching their primarily Gen X parents go into survival mode during the economic uncertainty of the Great Recession has also influenced Gen Z to be exceptional savers and careful spenders.
Compared to baby boomers and their millennials, Gen X parents are more pragmatic with their Gen Z offspring, notes Jonah Stillman. "Millennials were told as long as they participated, they were still winners. Gen Z was told there were winners and losers and you will have to fight for what you need."
Being raised in post-9/11 America also sent a message early on to Gen Z that "the world is a dangerous place," Warren says. This generation's Gen X parents were part of the growing number of latch-key kids raised in the advent of increasing divorce rates and the dual-income family — all of which has influenced how they parent. Gen Z's parents did not tend to let them go and explore the world.
Growing up with existential threats has made the desire to survive deep in Gen Z. Some older Gen Zers identify with Katniss Everdeen, the heroine from the Hunger Games who risks her life to participate in a sinister survival-of-the-fittest game of elimination as her sister's proxy. Gen Z's parents also hover over their offspring's "every move to make sure they don't take any risks or make any mistakes," Warren observes. Therefore, Gen Z's tendency to be risk averse and security- and survival-minded makes insurance an appealing product. Gen Z will like the idea of insurance, Warren predicts, but warns, "If insurance is packaged in a traditional, old-school manner, Gen Zers will never get the message."
"Millennials were told as long as they participated, they were still winners. Gen Z was told there were winners and losers and you will have to fight for what you need."
Perhaps the most important influence on Gen Z is growing up and reaching adulthood with smartphone in hand. Previous generations, explains Jonah Stillman, were digital1 pioneers while Gen Z is the first generation of digital natives who has only known a world with digital access. "Technology is just who we are," he explains. "We expect technology instead of accept it."
Ninety-five percent of Gen Z aged 13 to 22 years own smartphones, according to the "State of Gen Z 2018." Most "cannot live" without them. Fifty-eight percent of Gen Z reports feeling uncomfortable if they don't have their phones for a few hours or less, according to a survey of about 1,000 Gen Zers published last fall by The Center for Generational Kinetics. Of these, 31% are uncomfortable with being away from their phones for a half hour or less. Offering internet access, smartphones, as opposed to cell phones, serve as the lifeline for Gen Z and millennials. Pew Research echoes a similar sentiment in its "Mobile Fact Sheet," dated June 12, 2019. It notes that 96% of those aged 18 to 29 own smartphones. That figure gradually tapers down to the oldest generations of baby boomers and traditionalists who are more than 65 years old. For that group, 53% own smartphones, while 39% own cell phones and 9% do not own mobile phones.
Constantly hanging on social media and surfing the internet has made Gen Z quite savvy in the digital world. Sixty-eight percent of Gen Z reads at least three product reviews before making a first-time purchase with their own money, according to survey. "They will do price comparison, read reviews and know how to sort out the [fake] ones," Armstrong says.
What Gen Z Wants
Gen Z craves something that transcends innovative products, competitive price or multiple ways to communicate with insurers. To feel safe, they desire authenticity and transparency. "They prefer no surprises," says Armstrong. "They want to know what the premium is and buy it as quickly as possible." Warren also advises that insurers be clear about insurance and take the what-you-see-is-what-you-get approach.
Just because Gen Z are digital experts does not mean they desire a primarily digital relationship with insurers. In-person contact is a crucial way these power users seek authenticity. "[This is] the first generation that went through social and emotional learning in school," Warren observes.
However, the meaning of in-person is different from how other generations and Webster's dictionary define it. Since Gen Z does not differentiate between physical and digital experiences, communicating with an insurance agent face-to-face can include using Skype, Facetime and virtual hangouts, Jonah Stillman explains.
The study "The Next Generations and Insurance: Understanding Buying Behaviors and Preferences of Younger Adults" by Applied Systems and ORC International provides insight into the interplay of digital and traditional methods of communication. "For auto and homeowners insurance," the study notes, "the preferred and most frequently used communication channel by millennials and Gen Z is a direct call to an agent," according to the survey results released in November 2018.
When asked which channels they most frequently use to interact with their current insurer, the 1,002 respondents, aged 18 to 38, answered in the following order: direct call to agent, website, in-person meeting, call center, mobile app, online chat and text with agent. However, when asked which channels they prefer for buying auto insurance, directly calling an agent and meeting in person were the top two choices over websites and call centers. The least preferred were mobile apps, online chat and texting with agents.
This desire for face-to-face interaction holds true when purchasing a car as well, according to a 2016 Autotrader and Kelley Blue Book survey, "What You Need to Know About Gen Z: And Why It Matters." Although equally comfortable with shopping online, 68% said they would rather buy a car in-instore, according to the 2016 survey. When asked about their ideal shopping experience, Gen Z wants a positive experience while millennials and Gen X seek convenience and baby boomers are concerned with price.
How insurance is presented online is also critical for demonstrating authenticity to potential buyers. Dave Stillman expressed concern about the danger of making insurance appear too simple when Gen Z needs to be educated about insurance and how it works. "The sale of insurance to this generation is the inclination to be convenient and they can miss important details."
Joshua Calderon, a 23-year-old auto owner in Harrisonburg, Virginia, views insurance as a sophisticated financial product and was turned off by overly simple websites associated with insurtech products. "Their sites seem too easy, like they were canned," he says. Calderon, a district executive for a national nonprofit organization, paid a little more premium for a traditional insurer because it felt more secure than the newer options.
Calderon was not interested in digital communication as the first line of contact or for filing a claim. Recalling a positive experience with live customer service when he filed a claim while under his parents' coverage, he wanted the option to talk to a customer service representative first. He is, however, fine with using digital channels for less complicated transactions.
The features of an insurance product, whether auto, renters or homeowners insurance, also factor into the choice of insurers for Gen Z and millennials. Eighty-five percent of both groups consider 24/7 customer service as important, according to the Applied survey, while 74% felt mobile app access was important.
Gen Z's comfort with buying insurance through non-insurance sources is likely to affect the insurance purchasing process, predicts the study "Developing a Business Model for the Insurance Customer of the Future." The study was released in March 2019 by Majesco, which offers cloud-based core, digital and data products and services to the insurance industry.
If Amazon decides to enter the insurance market, the study predicts, it is likely to be successful since it has loyal customers who look to the online retailer for nearly everything in their lives, according to the study, which is based on the responses of 167 Gen Zers, 99 millennials, 166 Gen Xers and 100 pre-retirement baby boomers. Calderon sees that. "For some reason," he explains, "I trust Amazon and would be open to both purchasing insurance and streamlining payments for other services through the site."
Calderon . . .views insurance as a sophisticated financial product and was turned off by overly simple websites associated with insurtech products. "Their sites seem too easy, like they were canned."
Further, the Majesco study notes that 57% or more of Gen Z is open to buying insurance through nontraditional sources. Sixty-two percent indicated they would be fine with buying homeowners insurance from a real estate website or app; 58% are open to buying renters insurance from an apartment search site and app; and 57% would buy auto insurance through a car shopping website or app, according to the Majesco study.
Sharing Economy
Gen Z is also the first generation to be part of the sharing economy at a young age, which has important insurance implications. Most significantly, Gen Z is quite comfortable with ridesharing, according to the Majesco study. From 2017 to 2018, Gen Z's use of rideshare services jumped sharply from 45% to 62%. Ridesharing is also one of several factors causing Gen Z to delay obtaining driver's licenses and automobiles. High use of ridesharing, however, could also reflect Gen Z's age and station in life.
Twenty-year-old Samantha Williams, a business student at Washington University in St. Louis, started using Uber as a teenager when her mother returned to work in suburban Washington, D.C. Ridesharing was more convenient and cost-effective than driving a car and paying for insurance. At school, ridesharing off campus with friends or short distances also makes sense, she explains.
However, she says, "You cannot Lyft everywhere." It is fine for short trips, she explains, but her summer internship required her to travel longer distances as a sole passenger, which became quite costly. Unless she lands her first job in a major city, she plans to acquire a driver's license.
The Autotrader and Kelley Blue Book survey reveals that 92% of Gen Z plan to own their own vehicles because they see car ownership as safer, more reliable, more convenient and more flexible than car- or ridesharing. Prognosticators thought millennials would not be as interested in driving compared to older generations. It turned out, however, that millennials clocked more miles driven than baby boomers, according to "Generational Trends in Vehicle Ownership and Use: Are Millennials Any Different?" released this year by the Massachusetts Institute of Technology.
Williams . . .started using Uber when her mother returned to work . . . Ridesharing was more convenient and cost-effective than driving a car and paying for insurance. . . .but her summer internship required her to travel longer distances as a sole passenger, which became quite costly.
Another ridesharing trend with growth potential is peer-to-peer car sharing through services like Turo or Getaround, according to the Majesco study. Its use, however, is minimal so far. Five percent of Gen Z and 6% of millennials are renting out their cars for short-term use. Gen Z is also comfortable home-sharing through companies like Airbnb and HomeAway. Twenty-seven percent of Gen Z in the Majesco study have used home-sharing services in 2018, up from 17% in 2017 and bypassing the other generations.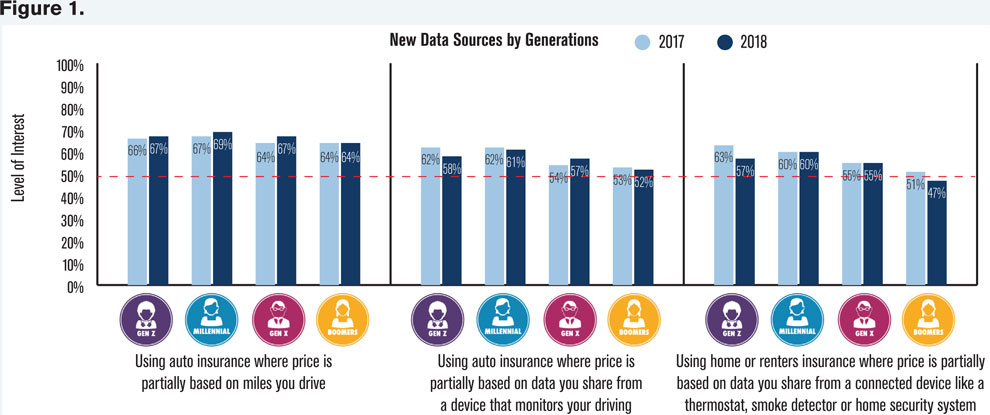 Data and Coverage
About half of Gen Z is also willing to share data if they see value in doing so, according to the Majesco study. Gen Z is more willing to share the number and types of friends and followers in social media, up from 43% in 2017 to 46% in 2018, the same percent as millennials. However, Gen Z could become less interested in sharing other types of data. The interest digital natives have in sharing the content of social media posts declined from 48% in 2017 to 43% in 2018. In contrast, interest among millennials grew 10 percentage points from 41% to 51%.
Applying non-risk data and its degree of usefulness in insurance is controversial. Insurtech startups use new sources of data and data scientists to model coverage differently than traditional methods applied by actuaries, explains Denise Garth, senior vice president of strategic marketing, industry relations and innovation for Majesco. "My perspective is [actuaries] need to think outside the box and look at a broader range of new, different data and modeling from other industries as well as from the customers' perspective, given they are increasingly willing to share data if they get something of value in return — an outside-in approach," she explains.
Armstrong observes that "most of the use of the data is not really for predicting accidents and risks." Rather, the utility of data is to ease the process of buying insurance, he observes, citing Lemonade, which auto-fills potential policyholder data in the application process.
While the traditional insurance industry pioneered usage-based insurance for automobiles, insurtech companies have taken the concept in new directions with on-demand, peer-to-peer, parametric and other approaches. Rather than applying risk-indicative information and providing discounts as traditional insurers do, insurtech companies have turned that approach upside down by placing more weight on the driver's behaviors to be risk selective.
Compared to the traditional insurance model of basing coverage on estimated miles driven to distinguish pleasure use and commuting, companies like Metromile offer coverage at lower mile limits. The concept has broad appeal. Allstate has launched a pay-per-mile product called Milewise, which has been successful in all 13 states where it is available, Armstrong says. "It appeals to the more urban and very budget-conscious — in other words, Gen Z."
While an assumption exists that digital Gen Z will be fine sharing personal data for less expensive insurance, there is some evidence that is not true as a whole. At least half of all generations were open to their auto insurance price being partially based on data sharing through a device, according to the Majesco study. However, interest from Gen Z dropped from 62% in 2017 to 58% in 2018 while the interest of older generations remained similar or increased (see Figure 1).
As an example, the idea of the low-mileage approach appeals to Kara Capell, a Ph.D. candidate in saxophone at Louisiana State University, who is transitioning from paying for coverage through her parents' policy to buying her own. She is not interested in being tracked, however. The first-time home buyer also plans to buy insurance from a traditional insurer to bundle coverages.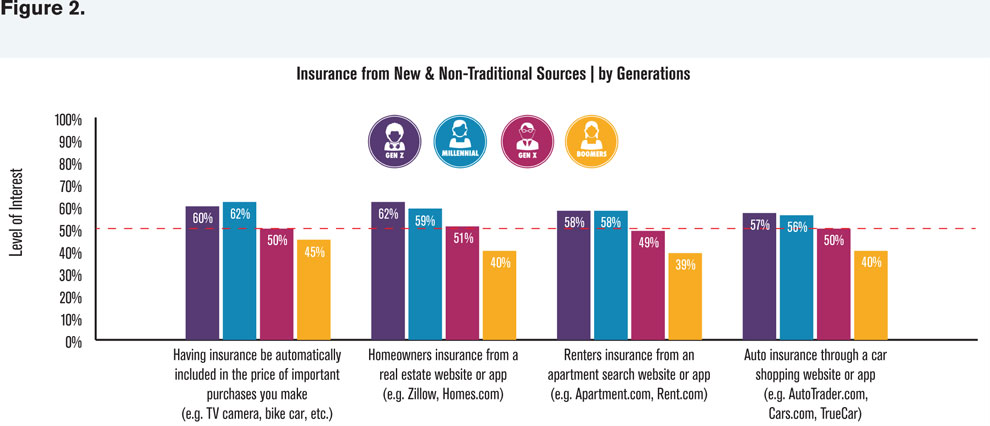 Nationwide announced a partnership in March with Slice Labs to develop on-demand auto insurance that allows drivers to turn on coverage when they need it. However, Trōv, which offers on-demand coverage for individual items and renters insurance "without a long-term commitment," pulled its product from the U.K. market in June, according to Coverager.2 It will be interesting to see Trōv's appeal in the United States where renters insurance offers what appears to be fuller coverage at an affordable price. On average, renters insurance was $185 annually in 2016, according to the National Association of Insurance Commissioners.
Gen Z's willingness to share data through internet of things devices could change the tenor of renters or homeowners insurance. More than half of Gen Z is open to sharing data from their residences, according to the Majesco study, if they see value from their insurers. However, this sentiment dropped six percentage points from 63% in 2017 to 57% in 2018. Meanwhile, millennials held steady at 60% willingness for both years (see Figure 2).
Conclusion
Gen Z is coming of age just as insurtech concepts and products are being introduced into the personal lines market. While some tech-loving Gen Zers will be open to customer experience through primarily digital communication channels, a significant portion of this youngest generation of personal lines insurance buyers desires to experience insurance through people — especially for more complicated transactions such as making purchasing decisions and filing claims.
The nation's first digital natives will change how insurers communicate with their customers. Cynical of website marketing gimmicks and photos of the perfect, digitally savvy Gen Z will be drawn to companies that evoke transparency and authenticity. Gen Z is also showing signs of being less inclined to share personal data, especially if they see no value in doing so. This could continue as consumers become more aware of personal data privacy concerns.
Regardless of whether an insurer is traditional or considered insurtech, those that make Gen Z feel safe in a world of risk will win over the country's first generation of digital natives.
---
Annmarie Geddes Baribeau has been covering insurance and actuarial topics for nearly 30 years. Her blog can be found at www.insurancecommunicators.com.
*personal information
1 https://genhq.com/generation-z-research-2018/
2 https://www.coverager.com/observations-on-trovs-d2c-uk-exit/