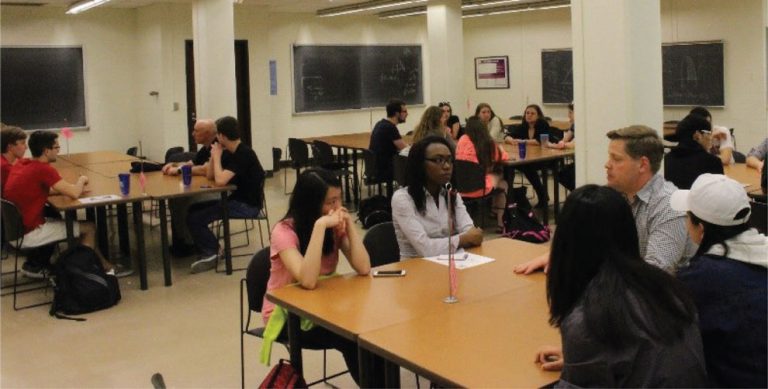 The CAS University Liaison Program connects over 300 member volunteers, known as University Liaisons, with professors and students at colleges and universities worldwide. Introduced in 1999, the program was developed to facilitate the partnership between the academic community and the actuarial profession. This partnership is vital to securing the pipeline of high-quality candidates who will become future CAS members.
The primary goal of a University Liaison is to develop a relationship with educators and student groups at their school and, through these relationships, share all of the exciting prospects and resources that the CAS and the P&C industry have to offer. University Liaisons accomplish this goal in a variety of ways. They visit campuses each semester, conducting presentations to student clubs and in the classroom. The presenters discuss topics that range from introductions to the P&C industry to more in-depth subject areas such as catastrophe modeling. University Liaisons also assist in advising students and professors, and informing them of the extensive resources available through membership in CAS Student Central and Academic Central.
Thanks to the great efforts of the 60+ volunteers on the University Engagement Committee, there is a wide range of materials available to University Liaisons to educate professors and students about P&C topics. These materials include case studies, case competition toolkits and an escape room toolkit as well as a P&C resource library with sample syllabi. Additionally, the committee creates education and networking opportunities for students and teachers, including webinars and in-person events.
The CAS University Liaison Program has a dedicated online community with tools and templates developed to facilitate campus visits. As a University Liaison myself, I know how much time and effort is required in visiting a campus. Therefore as chair of the program, I want to ensure that we make the process as easy as possible. We are continually reviewing and updating the available off-the-shelf presentations, the campus visit checklist, FAQs and answer guides, and informational handouts that the volunteers can easily distribute. We provide fun student giveaways, too!
At the start of each semester, we hold a kickoff webinar with the army of University Liaisons to orient them in their roles and to ensure that they have the latest information on exams, the resources available to students and examples of what successful University Liaisons are doing with their schools (see "What Does a University Liaison Program Look Like?). We also send periodic newsletters and obtain regular feedback through our University Liaison Activity Report, which allows us to monitor what is taking place across the program and helps us react with new or revised materials.
University Liaisons play a critical role in the CAS's mission by building and maintaining relationships that will help ensure the continued growth and development of the CAS. We plan on continuing to provide University Liaisons with the most effective support possible. Join us and become part of this exciting team!
---
Jaris Wicklund, FCAS, is an actuary at The Hanover Insurance Group in Worcester, Massachusetts.
Arizona State University

Interactive and rewarding are the words Dr. Jelena Milovanovic, professor of practice at Arizona State University (ASU), uses to describe the CAS University Liaison Program. For the last four years, ASU liaison Melissa Tomita, FCAS, has been an active presence on campus, helping to expose students to the P&C industry. In 2016, she and Dr. Milovanovic partnered to run a CAS Case Competition, which has become an annual event each of the last three years. Tomita has also facilitated mock interview nights, met with students one-on-one, and was the first industry partner to mentor a student honors thesis project over the past academic year. ASU is a recipient of the 2018 CAS University Award.
Bryant University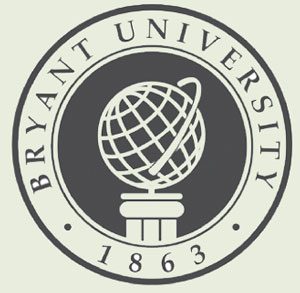 Bryant University has a team of CAS University Liaisons who work closely with its actuarial science faculty. The liaisons David Deacon, ACAS, Joe Muccio, FCAS, and James Wood, ACAS, support the university in a number of ways. They assist with the annual Bryant Case Competition each fall, preparing the data with which the students will work and advising the students as they participate in the competition throughout the semester. During the spring semester, they facilitate job-shadow events at three companies for groups of students, which they have done in 2017 and 2018.
Deacon has taught a casualty reserving course since 2016 and Wood has developed a ratemaking course scheduled for the upcoming academic year. Bryant mathematics department chair Kris Kennedy says that the University Liaisons have helped students secure internships and jobs in Rhode Island and other parts of New England. "[University Liaisons] have the opportunity to get to know our students personally, and they are most willing to help them find the right job," says Kennedy. "We are most appreciative of all they do for our program, and we look forward to a long relationship with them that will build every year."
The Ohio State University
For several years, The Ohio State University has had a close relationship with its CAS University Liaisons. Since 2013, they have worked together to host an annual event featuring actuaries representative of several areas within the P&C industry. Organized this year by their University Liaison Tony Hovest, FCAS, this annual event exposes actuarial students to the wide range of opportunities available. Liaison volunteers have provided curriculum guidance to academic advisors and have worked closely with the CAS Student Ambassadors, including 2018 graduate Phillip Sanderell, to plan events for the students.
University of Toronto

CAS Fellow Li Li Lin, CAS Associate Jimisha Hooda and CAS Candidate Shivani Karani make up the University Liaison team at the University of Toronto. They have partnered closely with CAS Student Ambassadors Davis Yuan and Akmar Chowdhury and the campus actuarial club to plan a variety of engaging and informative events for students. Their activities include conducting workshops (resume-building, and introductions to Excel, ratemaking, reserving and the P&C industry) and exhibiting at the annual University of Toronto career fair.
How You Can Become a University Liaison!
The CAS University Engagement Committee maintains a target list of schools in need of University Liaisons and a list of schools with volunteer matches. If you are interested in joining a University Liaison team or selecting a school in need of a University Liaison, please contact CAS University Engagement Manager Tamar Gertner (tgertner@casact.org) for more information.