The much-anticipated liberalization of tariffs for motor insurance and fire insurance in Malaysia set the stage for the annual general insurance actuarial seminar in Kuala Lumpur last December. In keeping with the dynamic evolution of the local regulatory control and oversight of motor insurance pricing, the theme of this year's two-day seminar was "Driving into the Future."
Yew Khuen Yoon, director of insurance development at the regulatory authority Bank Negara Malaysia, kicked off the first seminar session with an overview of the regulatory approach, which features gradually implementing product innovation and price competition. One of the goals of this phase-in process includes preventing a stampede of unsustainable price cutting in pursuit of dramatic (but destabilizing) swings in market share. Another goal is to create a transitional period during which marketplace participants can gradually adapt to the new market freedoms so any needed corrections can be worked out.
Another session featured lessons learned from experiences with de-tariffing in other jurisdictions around the globe. This session provided several case studies illustrating both the potential adverse effects of too-rapid movement to fully open rating and the effects of more controlled transitions.
Several seminar sessions had immediate and practical relevance to attendees. These included the use of the actuarial control cycle within the pricing discipline and various technical aspects of pricing within the Malaysia's phased liberalization, regulatory regime. Especially fascinating was a case study showing the power of clear and transparent actuarial communications. Day one closed with a "big-picture" session on the new tools being used by actuaries, who are increasingly becoming key strategists in developing, implementing and monitoring tactics for marketing, underwriting and pricing.
Throughout the seminar, actuaries were challenged to develop the technical tools, business acumen and communication skills to earn a seat at the strategic table as insurers design, develop and deliver new products, services and business operation models that add real value to the customer, build customer loyalty and attract new customers. Throughout, it was striking how many of the essential themes of the speakers' remarks — though set in the context of the changing Malaysian regulatory environment — rang equally relevant in the wide range of different environments familiar to various speakers and attendees.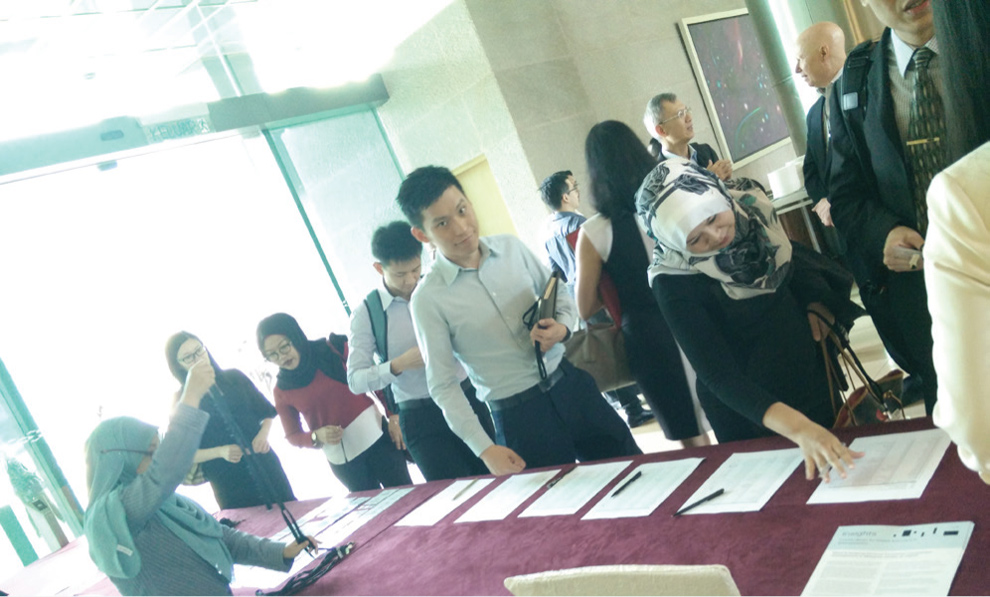 One last session gave us a glimpse of a different dimension of innovation: vehicle technology. Matt Moore of the U.S. Highway Loss Data Institute (HLDI) shared HLDI research illustrating actual on-the-road benefits, costs and challenges as well as unanticipated consequences arising from new collision avoidance and driver assistance technologies. These issues and autonomous vehicles, which will eventually be operating on public roads, signal challenging and exciting work ahead for automotive engineers, software developers, road-builders and policymakers.
Innovation — in the form of the Actuarial Society of Malaysia's meeting app — played a big part in having attendees shape the content of the seminar sessions. You may be familiar with awkward silences that sometimes fill Q&A periods or situations where one or two audience members monopolize the Q&A. At this year's seminar, attendees used the meeting app to not only post questions and comments throughout the session, but also to indicate their degree of interest in others' questions and comments. A facilitator then selected, prioritized and posed the questions to speakers. Every session this year attracted more than enough questions to stimulate conversation to the very end of the formal session — and it was clear that conversations spilled over into the coffee breaks between sessions.
More than 165 people participated in this year's event — significantly more than for meetings in 2014 and 2015. Consulting actuaries and company actuaries alike indicated a strong interest in keeping abreast of the latest thinking on the opportunities and challenges that lie ahead in Malaysia. There was a real sense of sharing — about ideas, roles, tools and skills — that will help actuaries be most effective and contribute to the success of their clients and employers.
This year's seminar was organized by the Actuarial Society of Malaysia, the Casualty Actuarial Society and the Institute of Actuaries of Australia. In addition, the Institute and Faculty of Actuaries (U.K.) joined this year as event co-sponsor and provided marketing support. Thanks to all of the speakers, attendees, the organizing teams volunteer and staff members, and all four supporting organizations — each played an important part in this educational and enjoyable event!
---
Former CAS president Bob Conger, FCAS, is a consultant with Willis Towers Watson.