Homeowners insurer-based internet-connected devices are expected to be as transformative as telematics for personal auto insurers.
Telematics is transforming personal auto insurance. What began as a way to track policyholder behavior more than 15 years ago has enhanced driver safety and spawned new rating approaches, process efficiencies, insurtech carriers and data aggregators.
Hoping to reduce losses, improve customer experience and develop rating factors, homeowners insurers started offering internet-connected devices to policyholders about five years ago — just as the insurtech movement began gaining momentum.
Although the equipment, risks and coverage are different between personal auto and residential property coverage, there is an expectation that connectivity for homeowners insurance will follow a similar path. Gaining insight into the future of insurer-based, internet-connected devices in the home begins with looking at how telematics is faring.
The State of Telematics
The results from insurer-sponsored telematics programs are nothing short of revolutionary. For decades, actuaries knew there was a relationship between accidents and certain driver behaviors, such as speeding, rapid turns and lane changes along with hard accelerating, decelerating and braking. Without knowing how individual policyholders operate their vehicles, the closest rating proxies available to actuaries are traffic citations and claims experience.
When a few personal auto insurers began using telematics with plug-in devices, the resulting data did not merely confirm what insurers had suspected for decades. Telematics data also gave insurers the opportunity to quantify the relationship between drivers' actions and resulting claims while supporting a new level of coverage personalization. It did not take long for competitors to follow suit.
Apps, which came on the scene about five years ago, are gradually replacing plug-in devices. The Insurance Research Council's (IRC) survey, "Auto Insurance Telematics & Smartphone Use: Consumer Survey Report," reveals that 51% of respondents are engaging in their insurers' telematics programs through apps. Meanwhile, 33% use temporary plug-in devices and 15% are participating with their car's onboard system, according to the survey of 2,099 respondents released in August 2020.
Insurer-based telematics programs offer several opportunities. Auto insurers are using telematics for actuarial, marketing, underwriting, claims and service functions, though the degree of use changed in 2021 compared to 2020, according to Novarica's "Emerging Technology in Insurance" reports for 2020 and 2021 (see Figure 1).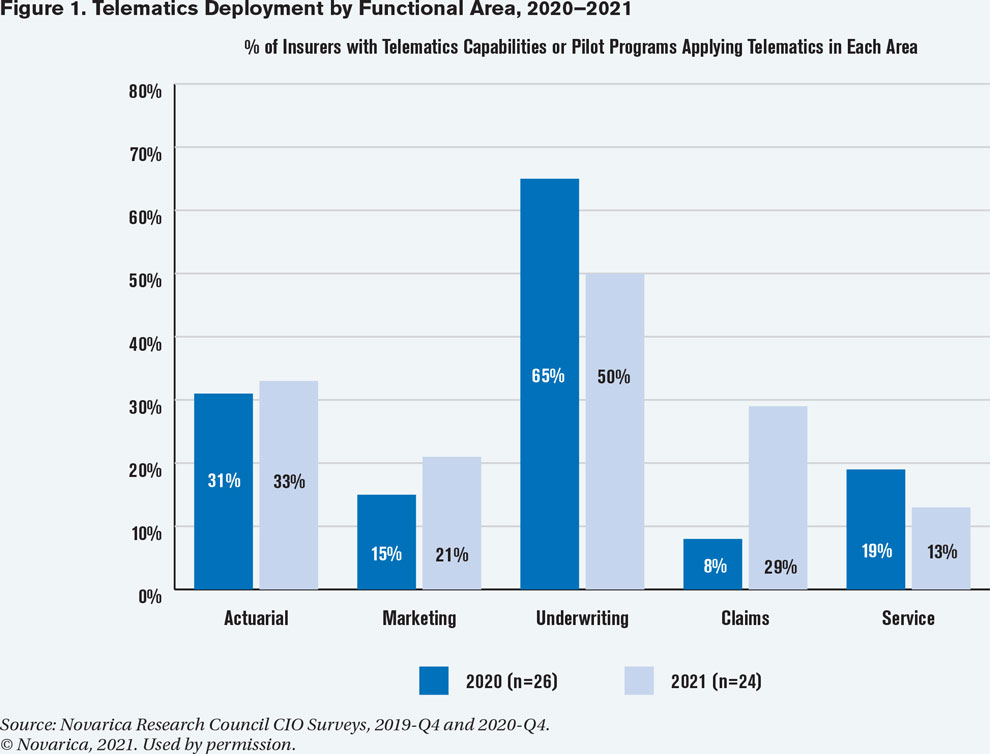 Driver behavior is the most significant cause of accidents.[1],[2] Feedback from telematics can help motorists drive better, but the changes may not be long-term. In the IRC survey, 80% who participated in telematics programs changed the way they drive. However, 42% of those who initially made changes said that they now drive the same as before using telematics. Also, in the IRC survey, 58% who used telematics reported improving their driving in various degrees.
Telematics provides the "purest measure of a driver's riskiness," says Roosevelt C. Mosley, a principal for Pinnacle Actuarial Resources. "There are actually some companies big enough with telematics penetration [that they] certainly could use the information to account for a larger portion of the premium determination," he observes, if they felt comfortable enough.
For rating, telematics-derived data is a game changer. "Driving behavior can be more predictive than most other standard rating factors [including] gender, marital status and credit scoring," says Megan Klein, director of actuarial and data governance at Arity, a mobility data and tech company. "Insurtech companies are bringing telematics to the heart of their rating plans," she says. "[They] are able to refine their pricing to be more competitive for lower risk, [which allows] greater opportunity for profitable growth." However, that growth has not happened yet. "Most insurance companies are keeping their existing rating plan and layering telematics on top," Klein says.
Confident that behavioral telematics can eliminate the need for the credit score factor, Root Insurance recently announced that by 2025 it would no longer use what they termed the traditional car insurance industry's "unfair, discriminatory biases" in its rating approach. Released in February 2020, "Credit Scores and Car Insurance: How Unfair Pricing Practices Discriminate against Millions of Drivers," the company's report calls for the auto insurance industry to stop using credit scores and to "uproot" the status quo to "bring fairness, transparency, and modernity to the insurance industry, making room for more effective and accurate measures of risk."
Real-time telematics data in the aggregate give insurers insight into current activity to detect changes on the road.
"The big issue being debated now is exactly what is meant when people say that credit scores are unfairly discriminatory," observes Mosely. Both credit scores and driver behavior are predictive of claims, but Mosley explains that the term "unfairly discriminatory" has specific legal and actuarial definitions, neither of which deem credit scoring as unfairly discriminatory.
Traditionally, insurers used the average amount of miles driven that policyholders reported as a rating factor. Thanks to telematics, usage-based insurance (UBI) is growing. UBI content includes the behavior-based PHYD (pay how you drive) and the miles-based PAYD (pay as you drive) or PAYGO (pay as you go). Metromile, which came on the insurance scene a decade ago, offers pay-per-mile coverage and requires policyholders to enroll in telematics. Nationwide Insurance projects that 70% or more new business will come from its usage-based insurance programs by 2025.
Even insurers offering usage-based coverage based on miles driven are not establishing rates primarily on telematics, Mosely says. "Based on their website, less than 25% of Root Insurance rates are based on telematics," he adds. Metromile uses factors such as age, credit history and driving history.
Telematics is also useful for marketing and market selection. Root requires a "try-before-you-buy" telematics period. Progressive Insurance also gives potential customers the option to try its Snapshot Road TestSM app to determine if they drive safely enough to get a discount. Progressive is also offering a 30-day driving trial through Credit Karma's "Karma Drive" app, allowing customers to learn if they qualify for a discount through the insurance carrier.
Auto insurers are applying telematics in varying degrees. "The least sophisticated programs are offering renewal discounts based on driver scores," says Harry Huberty, research director and chief of staff of Novarica. "The most sophisticated programs are branching into automatic accident detection [and] ingesting telematics data directly into claims systems for use in adjusting and offering trip-by-trip summaries with personalized recommendations for improving poor driving habits." Farmers Insurance, for example, is offering crash detection and accident services through its Signal app.
Klein observes that some insurers are boosting their business propositions by offering other potential benefits to consumers, such as providing emergency roadside services and first notice of loss (FNOL) data to hasten the claims process.
"The ability to grab objective information [from accidents] is an exponential leap forward," says Tim Christ, vice president of growth for Claimatic, which automates claims distribution in real-time. "Data at first notice of loss is poor," he says. "People do not always remember what really happened," and the story changes as policyholders speak to agents, claims adjusters and forensic engineers. Not only will automating FNOL improve efficiency, but it also allows insurers to use the information for liability analysis, he says.
Real-time telematics data in the aggregate, Klein offers, give insurers insight into current activity to detect changes on the road. For example, during the beginning of the COVID-19-associated lockdowns, Arity's telematics data revealed an early signal that traffic had declined but speeds were accelerating. By detecting the overall change in driver behavior, Arity could alert drivers and the insurance industry, she says. "I think the interesting part of seeing this data was that the traffic reduction and its potential impact on frequency was expected, but telematics also allows insurers to review shifting behaviors like driving at high speeds and their opposing impact on severity, which was not as expected," she adds.
Barriers to Adoption
Despite the multiple benefits of telematics programs, insurer and driver participation is limited. Since 2018, insurer movement toward telematics has stabilized rather than increased, Huberty says. About one-third of the 81 insurers surveyed in Novarica's CIO Survey were actively participating in telematics or internet of things deployment (see Figure 2). Surprisingly, surveyed auto carriers show less interest in telematics in the 2021 survey (40%) compared to 2018 (33%) (see Figure 3). "Technologies like telematics and internet of things, whose value proposition is still becoming clear — and which have substantial startup costs — are a little less appealing in 2021," Huberty observes. "I would expect interest to perk back up in 2022 and 2023."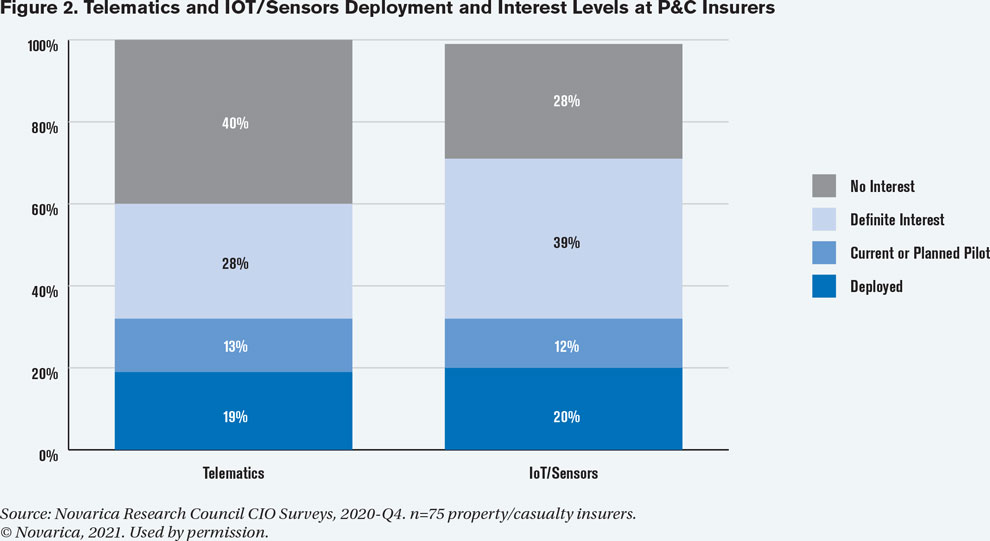 On average, telematics-related coverage insurance makes up about 6% to 8% of a company's book of business. However, for some insurers, that figure is as high as 35%, says Huberty, who wrote the report, "Telematics in Insurance: Overview and Key Issues," released in October 2020. Assuming consistent adoption rates of about 1% annually, telematics in the personal auto insurance market are estimated to make up $22 billion to $32 billion in collected premium by 2025, Huberty says, up from $10 billion to $15 billion.
As sensor-based technology, telematics programs are expensive and difficult to integrate into insurer processes, Huberty says. Gaining the "full measure" of what telematics can do for insurers and customers requires carriers to rethink how to integrate new products and processes with products already in place, he adds.
Realizing the full benefits of telematics also requires greater consumer participation, which depends on more public awareness. After reviewing a brief description of auto insurance telematics, 57% in the 2020 IRC survey indicated awareness of such programs, which is up somewhat from 50% in the 2015 survey. A Nationwide Insurance survey reveals that 27% of those surveyed "know what telematics is" but only 10% were participating in such programs. Nationwide's survey was based on responses from 1,600 participants, including independent insurance agents, mid-market business owners with fleet vehicles, and consumers.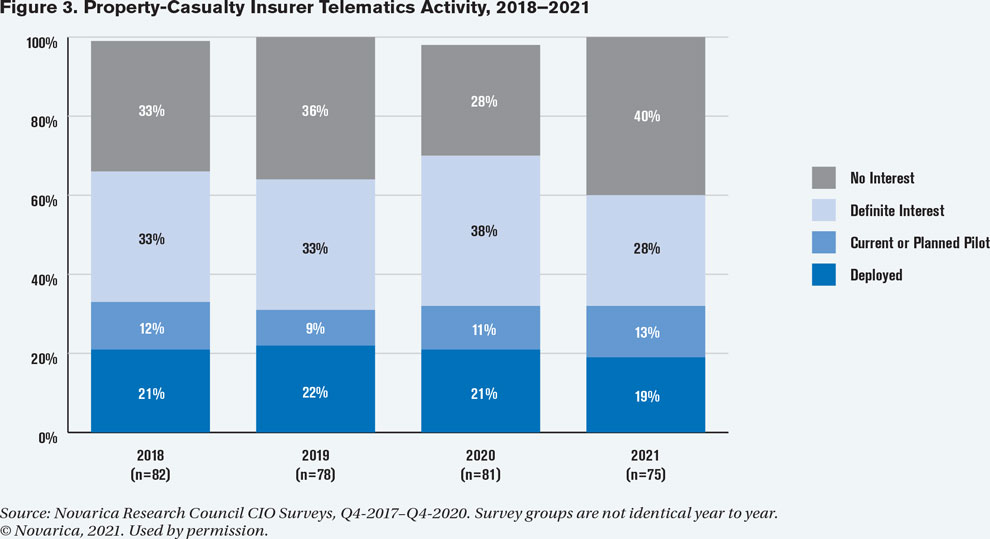 Overall, consumers appear willing to participate in telematics. Sixty-five percent of respondents in the Nationwide survey said so. In the IRC study, 90% of those who said they were invited to participate agreed to do so. This is a considerable increase from IRC's telematics 2015 survey, when 51% of respondents said they had installed a telematics device. While this is not an apples-to-apples comparison, it demonstrates a higher participation rate with app-based programs, according to the report.
As for the 10% of respondents in the 2020 IRC survey who would not participate, 58% cited privacy concerns, which continue to be a roadblock to more widespread participation in telematics programs. While younger drivers are more likely to participate, the differences across age groups are relatively small, the 2020 IRC study notes. "[It is] important that insurers provide transparency and show value for drivers participating in these programs," Klein says.
Showing value has essentially meant providing premium discounts, which can entice non-participators to change their minds. The only problem is not everyone can get a discount, and drivers tend to have an inflated view of their skills. The IRC study reports that 29% of experienced telematics drivers experienced premium increases. When participating drivers who say it is "too soon to tell" the premium-cost impact are excluded, 40% report increases in premiums. Fifty-four percent of drivers with sufficient experience to make an assessment report a premium decrease, and 15% report that the decrease is substantial.
Some insurers "are moving away from discount-only telematics programs and have started to reflect the indicated rate for the higher risk drivers," Klein says. "Yet there is progress to be made toward making actual driving behavior a leading factor for most rating plans."
Although driver participation is relatively low, there is sufficient data to attract aggregators from both inside and outside the insurance market. Insurance carriers are "very interested in aggregators and they should be," Mosley says, because they can boost competition by allowing smaller companies to get access to data. "There is an arms race on who is going to get manufacturers signed up," he observes. "As more (automakers) get on board with an exchange, I could see that becoming a pretty significant step in terms of getting customer adoption to a higher level," he predicts.
Ironically, as telematics programs become more sophisticated in their ability to improve ratemaking and human driving behavior, advanced driver assistance systems (ADAS) and autonomous vehicles are evolving to reduce the drivers' role in vehicle operation in the first place (AR, November-December 2019). This creates a challenge for insurers, since telematics data used in underwriting today does not distinguish whether the driver or the automatic equipment is compelling vehicle movement, says Adam Hudson, vice president and general manager of U.S. Connected Car at LexisNexis Risk Solutions, a telematics exchange company.
"The first problem the insurance market has had to solve is not whether ADAS is on or off but whether the vehicle is equipped with ADAS," Hudson says. Just the presence of ADAS technology tells an actuary that the vehicle should be safer overall, he explains. Interestingly, LexisNexis Risk Solutions sees little-to-no correlation between its telematics driving risk scores and the presence or absence of ADAS technology. "Insurance carriers should be able to use both telematics data and ADAS fitment in insurance underwriting, as both tell a carrier something unique about the driver, their vehicle and the associated risks," he says. ("Fitment" refers to the parts that are fixed or built into the car.)
The State of Insurer-Based Internet-Connected Devices
After four years of unprecedented weather events, homeowners insurers are seeking ways to prevent inside-the-home incidents (Actuarial Review, March-April 2021). A growing number of carriers are encouraging policyholders to use internet-connected devices for improving risk management, the claims process, marketing and ratemaking. Specifically, the percentage of insurers using internet of things devices for the home has doubled from 10% in 2018 to 20% in 2021, according to a 2021 "Emerging Technology in Insurance" report, released in January 2021 (see Figure 4).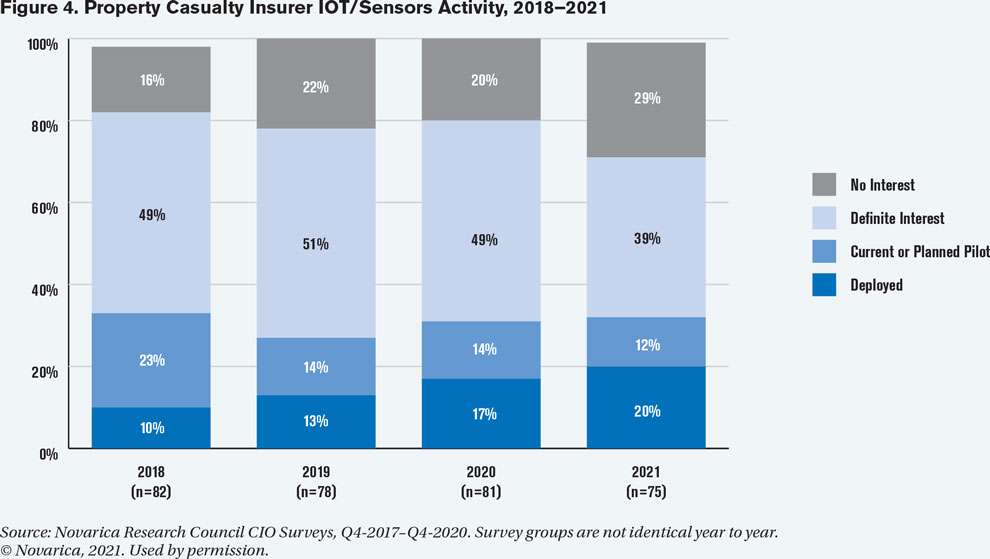 Insurer-based internet-connected devices can mitigate risk by alerting policyholders of smoke, power outages, water leaks and intruders. Roost is a service provider that helps insurers start their programs by serving and supplying devices and collecting data. Roel Peeters, who started the company about seven years ago, remembers receiving push-back for the idea. "When we introduced the concept of home telematics, and we were the first to do it, people looked at me like, 'who is this lunatic?'" he recalls. Now about two dozen insurers are contracting from the company, including USAA and Allstate for homeowners insurance, and Church Mutual for commercial property monitoring.
Peeters says that insurance companies pay for devices in almost all circumstances. The policyholder agrees to install the devices and share information. However, Huberty says, deploying insurer-based internet-connected devices in the home has not been easy because homeowners do not see the value compared to telematics; insurers and policyholders also want different types of devices. "People want insurers to buy their security cameras and window motion sensors," he observes, "and insurers want water sensors. That has been a tough nut to crack."
Educating customers is an integral part of what Peeters calls "property telematics" because customers need to learn why devices are necessary, where to place them and how to monitor them. Indeed, homeowners insurers overall would benefit from better educating consumers. Based on Chubb's fourth Annual Homeowner's Risk Survey results, homeowners do not realize their critical role in preventing accidents and claims (AR, March-April 2021).
Most residential dwellers — three out of four — are open to using insurer-based internet-connecting devices, according to a 2018 IRC study, "Smart Home Technology: Many Express Interest, But Cost and Privacy Concerns Slow Adoption." For Hippo, which partners with internet of things-related providers for its smart home program, 70% of eligible customers have activated their kits. Customers who use both self and professional monitoring systems can get up to a 25% discount.
Not everyone is enthusiastic about tracking devices in the home, the most private space in people's lives. In the IRC's smart home technology report, older homeowners were much less likely to be interested in the technology, with willingness declining significantly after age 45. When asked what would cause respondents to not allow insurers to receive information, the top three reasons were: concluding that their privacy could not be protected (59%); discovering that their insurance costs might go up (58%); and realizing that their home network might be hacked and their personal information stolen (40%). However, since more Americans adopted insurer-connected devices during the COVID-19 epidemic, those results could be different now. Peeters says that the percentage of people rejecting property telematics for privacy reasons is in the low-single digits.
Educating customers is an integral part of what Peeters calls "property telematics" because customers need to learn why devices are necessary, where to place them and how to monitor them.
"If you poll people, they say they are concerned about privacy," offers Robert P. Hartwig, clinical associate professor at the finance department and director for the Center for Risk and Uncertainty Management at the University of South Carolina. But if Americans perceive value, they are willing to give up personal information, he adds.
The reality is that Echo's and Alexa's successes may bode well for many other types of internet-connected devices, Hartwig says. "People will be very comfortable having their homes monitored in ways that allow them to receive a benefit." He cites the success of home security system Ring as an example. To improve consumer participation, installing and using the devices must be seamless, he offers. Customers want installation to be as simple and easy to as possible.
Actuarial Potential
Roost is working on developing data sets for actuarial purposes. "It's been absolutely fascinating to start seeing real, actuarially relevant data," Peeters says. The data reveals, for instance, that the actual number of water leaks is five times more than the number of claims filed.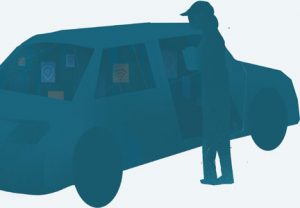 In 2017 Roost partnered with Willis Towers Watson to collect data from about a dozen of its customers to develop actionable aggregated data. "The crucial factor is having the actuarial data available," he says, which he expects to be available in the next 12 to 18 months. He promises that the data will demonstrate the effectiveness of property telematics and will be the "lynchpin" that will compel more insurers to offer programs.
"When you are looking at putting out a rate, underwriting or pricing a property, you are looking at data from outside the walls; you are rating a black box," Peeters says. What he calls "property telematics" can provide data in real time, allowing policyholders to receive instant alerts to help prevent and mitigate damages, and carriers to use the pricing and underwriting data. "All the technology is mature and available today," Peeters says. "The actuarially relevant data is the last missing piece to enable mass adoption."
Conclusion
The effectiveness of any program depends on participation. And when it comes to data, the greater the participation in telematics and insurer-sponsored internet-connected programs, the greater the potential.
Although large auto carriers have invested in educating the public about their potentially premium-saving telematics programs, the lack of consumer awareness appears to be limiting participation. Since homeowners do not fully realize their role in preventing unnecessary claims, all homeowners insurers, whether they offer internet of things devices or not, would benefit by investing more in consumer education.
Improving customer experience through more efficient claims processing or adding services can enhance an insurer's value proposition. Telematics and insurer-based internet-connected device programs have the potential to cause bad will for policyholders who do not qualify for a discount or see rates increase sans claim filing. While there are ample telematics data to attract data aggregators to the auto insurance market, insurer-sponsored internet-connected programs remain in their infancy.
Eventually, data from all consumer insurance lines, including auto, home, life and health, will be integrated. When that happens, insurers will be able to maximize existing data sets and discover those not yet conceived for ratemaking, pricing, underwriting and other purposes.
As insurers compete in the technology race, the industry also needs to carefully consider how it will treat policyholders who have legitimate concerns about privacy, data use and security. Technology holds tremendous power to help or harm. Algorithms are not always correct, and data are not always clean or complete. Remembering that each policyholder is a person, and not just a configuration of numbers to make a score, is a step in the right direction.
[1]   "Automated Vehicles and the Insurance Industry, A Pathway to Safety: The Case for Collaboration," Casualty Actuarial Society's Automated Vehicles Task Force report, CAS E-Forum, Spring 2018.
[2]   "Automated Driving Systems 2.0: A Vision for Safety," National Highway Traffic Safety Administration.
---
Annmarie Geddes Baribeau has been covering insurance and actuarial topics for more than 30 years. Her blog can be found at www.insurancecommunicators.com.