Kevin Madigan did not play rugby until college. In fact, he did not play any sports prior to college other than little league baseball, which he loved but was just average. Although tall and large for his age as a boy, he was a late bloomer. In college he started running and lifting and became pretty fit, and he realized that he wished he had played high school sports and that the college years could be the last opportunity to do so. A friend was a member of the rugby club, and he decided to try that. Oddly enough, by the time he started playing, his friend had quit the club.
Kevin attended Auburn University, where he started playing rugby in the spring of 1985. At that time, his rugby club was not very good. They lost every game that he played as a member of the Auburn University Rugby Club. The club had been very good in the early 1980s, and the members decided to move up to a more competitive division. However, the best players began to graduate or join other teams, leaving Kevin's club with a bunch of newbies like him. They didn't even have a coach or an active faculty advisor. Despite these challenges, Kevin had fun. He didn't learn too much beyond the basics, but he did learn that he loved playing the sport that he did not quite yet understand.
To explain a little bit about the sport, there are 15 positions on a rugby team—eight forwards and seven backs, although one of the backs, the scrum half, is a hybrid. The diagram at right shows the forwards of two teams in position for a "scrum down." The players marked 1, 2, and 3 are the "front row," consisting of the hooker (#2) and the two prop forwards (#1 is the "loose head" and #3 is the "tight head"). Positions 4 and 5 are the "second row", otherwise known as "lock forwards." Positions 1-5 are known as the "tight 5" and tend to be the largest players on the field. The forwards are akin to the linemen in American football. The tight five are roughly analogous to the center/nose guard, guards and tackles. These position descriptions only apply during scrum downs, which occur after stoppage of play for minor infractions or because the ball is bottled up in a "ruck" or a "maul."
Due to a serious lack of speed, Kevin usually played forward, except for one season when he played the position known variously as "second row" or "lock forward" (positions 4 and 5 in the diagram).  In the fall of 1987, after some serious weightlifting and bulking up from 210 to 270 pounds (he had grown from 5'11" to 6'3"), but still being fit enough to play a full game in the southeastern U.S. heat, he played "tight head prop forward" (position 3) because his club at the time had a surplus of second rows and a shortage of props.
After his first year of graduate school, Kevin took time off to sort out what he wanted to do with his life and moved back in with his parents in Clearwater, Florida. While there he played with the Clearwater Pelicans in the Florida Rugby Union in the fall of 1987. After that he attended graduate school in Albany, New York, and played from 1989-1992 with the Albany Knickerbocker Rugby Football Club, which at the time was part of the Upstate New York Rugby Union. (They are now part of New England Rugby.)  He got married in 1992 and finished his Ph.D. in 1993. He then began a long hiatus from rugby.
In 1998, after working hard to get back into shape, he decided to play again. He was 34 years old and just wanted to play for the fun and social aspects. He played with the Chicago Griffins for three seasons. Later, after moving his family to New Hampshire, he played for Amoskeag Rugby Club in Manchester. All of these clubs and the various leagues (called unions) in which they play are part of USA Rugby.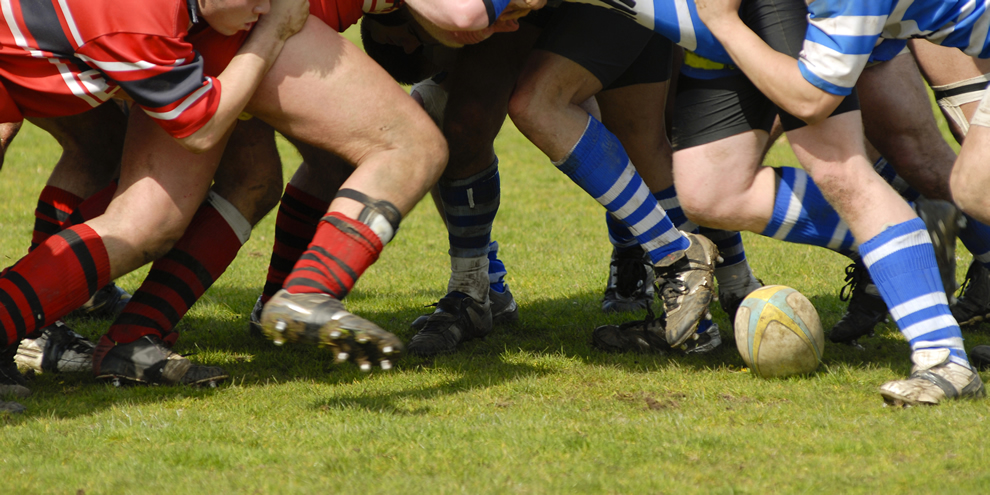 At the age of 40, Kevin played one season in Bermuda. He played only as a way to meet people after having just moved to the island.
In Bermuda the ground is extremely hard. Everyone on the island understands the sport. Although not as huge as soccer and cricket, it is a part of the island's culture. Many are avid spectators of international rugby, so one isn't viewed as an exotic creature for playing the game. Many, if not most, of the people who play rugby on the island have been doing so since childhood, whereas in the U.S. people tend to pick it up in college or thereafter.
Bermuda holds an international rugby tournament every year with retired players from around the world representing their countries. Although Kevin never played in that tournament, he finds it pretty cool the way the entire island gets swept up in rugby for a week every year.
While in Bermuda, Kevin's son, who was seven or eight at the time, played mini-rugby. Kevin enjoyed helping out, but the other coaches had much more coaching experience.
During his playing days, Kevin devoted about 10 to 15 hours a week to the organized club training and the running and lifting to keep fit and strong, in addition to the game time itself. Travel, playing, and the post-match gatherings sometimes absorbed an entire weekend.
Among his most memorable experiences is the Saranac Lake Rugby Tournament, held in August every year in Saranac Lake and Lake Placid, New York. This entire part of the Adirondacks is swept up by rugby, with 100 clubs converging for the tournament.  Playing in the Northeast knockouts for the Albany Knickerbockers around 1989 they got thumped by a bigger, fitter team from Boston. It was the highest-level game in which he ever participated.
For Kevin, the social aspects of the sports are probably the most memorable. There is much camaraderie and a real culture to the sport. When a player is injured, clubs and the entire community band together to help. Also, he still fondly recalls several times when he saw someone familiar on a rugby pitch and both realized that years before they had been teammates—or meeting someone in a business setting and recognizing that years earlier they had played against one another.
Kevin Madigan, ACAS, CERA, is a director at PricewaterhouseCoopers LLP.