Each year more than a third of CAS members volunteer. Some of them have gone "above and beyond" for a focused and finite project over the course of a year. Some are new to volunteering and to the CAS but have exhibited outstanding leadership. Others are long-time volunteers who have devoted their time and energy throughout their careers to elevating and advancing the actuarial profession. The CAS honors 12 such exceptional CAS volunteers.
The Above and Beyond Achievement Awards
This award recognizes short-term volunteer contributions during the previous year.
Jonathan Charak (FCAS 2013) was awarded a 2016 ABAA for his wide ranging work as a member of the CAS Automated Vehicles Task Force, serving as both the vice chair and the head of its communication team since the group's inception. "I started volunteering with the CAS after receiving my Fellowship," recalled Charak. "My involvement really picked up when the CAS was forming the Automated Vehicle Task Force. I felt this was an interesting area as I enjoy reading about new technology as well as cars." Charak serves as the task force's spokesperson for this issue, doing interviews with several outlets and presenting the group's mission at events since 2014. "I really enjoy helping the CAS shape the conversation for an emerging risk that will have significant impact on the industry."
Christopher Styrsky (FCAS 2004) was awarded the ABAA for his work with the Syllabus and Examination Committee, specifically his responsibilities of overseeing the development of a new grading program. His job required him to work closely with the vendor, coordinating extensive user testing and code development, before finally providing documentation and training to exam committee members. The new program met all expectations for a successful Spring 2016 grading session. "Being an actuary has affected my life in so many positive ways, from providing a challenging career to meeting interesting people — some of whom would become my closest friends," said Styrsky. "Volunteering allows me to give back to the profession that has been so influential in my personal and professional life."
Paul Kinson (FCAS 1998) was nominated for his role as chair of the University Liaison Working Group as well as his contributions across the University Engagement Committee. "The quality and consistency of new ideas, activities and resources that he has contributed to his leadership role have surpassed that which would be expected of a typical chair," wrote his nominator. "He is laser-focused on incorporating innovations, improvements and hard work into everything he does." Kinson became chair in 2013 and has since doubled the size of University Liaison volunteers, reaching more than 400 volunteers in his tenure. "It has been gratifying to see students go on to enter the profession and earn their CAS credentials," said Kinson of his mentoring.
Paul Grammens (FCAS 2012) received his ABAA for his work on the New Members Committee. Grammens led the video project Attending Your First Meeting, which was created after new members expressed that they were not fully prepared for their first CAS meeting. The fast-moving, animated video received a Silver EXCEL Award from the Association of Media and Publishing. "I enjoyed being able to put forward an idea on how to communicate with new members — seeing that idea come to fruition has reassured me of the importance of individual volunteer contributions to the CAS," said Grammens.
Ginda Fisher (FCAS 1997), Jeremy Shoemaker (FCAS 2003), and Amy Waldhauer (FCAS 2004) comprised a working group established within the Strategic Subcommittee of Education Policy. This group received the ABAA for their evaluation of methods for content delivery and assessment for CAS Basic Education. After conducting research over the course of five months, they offered a report that challenged existing protocols and encouraged the CAS to explore new ways of delivering educational content. One board member noted that this would set the course for basic education over the next several years. "The CAS has offered me a great opportunity to work with people who are very good at what they do, and I am continually challenged to bring my best to my work with them," said Waldhauer about her experience.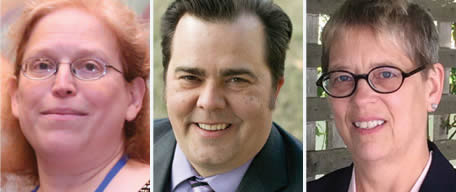 The New Members Awards
This award recognizes volunteer contributions during an individual's first five years from their most recent credential.
Kevin Donnelly (FCAS 2012) received his NMA for his involvement in the RPM Seminar Planning Committee. After joining in 2014, he quickly became involved by organizing new health care sessions for the 2015 RPM Seminar and volunteering to lead roundtables when track leaders left. "Kevin has always been willing to go above and beyond by helping serve on tracks and leading when we had needs," Donnelly's nominator wrote. "His work was very valuable in having a successful seminar." Donnelly became the committee vice chair in 2016. "Volunteering makes me feel a part of the organization," said Donnelly. "As volunteers, we can help guide the Society into the data revolution and ensure that we stay current, relevant and valuable."
Sara Hemmingson (FCAS 2014) was honored for her service on the Interactive Online Education Committee (IOEC) where she volunteered to lead a course team within the committee. As a team leader, she organized calls and worked regularly with CAS staff, vendors and subject matter experts. She effectively led the team through the launch of two successive courses. Her success as team leader resulted in her accepting the role of IOEC vice chair. "I really love learning from and meeting other actuaries," said Hemmingson when asked about the benefits of volunteering. "I've found that hearing and understanding viewpoints different than mine while volunteering continually grow my own ability to think in a holistic manner at work, which is a big asset."
Walter Matthews (FCAS 2013) was awarded his NMA for his involvement on the Examination Committee. He began writing unique and challenging questions for Exam 5 and stepped into the role of vice chair, increasing his involvement on the committee after just a year. "I began volunteering to better improve the exam process for future actuaries," said Matthews. "I never anticipated the great relationships I would build with other volunteers; these relationships have kept me coming back." Though it is not required of the vice chair, Matthews continues to write and grade for Exam 5. His nominator wrote, "Walter produces high-quality questions, brings meaningful contributions to our pass mark panel and maintains a great attitude throughout all of our work!"
The Matthew Rodermund Memorial Service Award
The Matthew Rodermund Memorial Service Award annually acknowledges CAS members who have made considerable volunteer contributions to the actuarial profession over the course of their career.
Richard Fein (FCAS 1978) received the Rodermund Award for his continued years of service among a diverse list of committees, with a large focus on CAS publications. Reflecting on the importance of volunteerism, Fein said, "The input of working professionals keeps the organization current and flexible enough to reflect the changing ways in which P&C actuaries' work requirements evolve. The diversity of people's experiences and points of view are a significant strength that can't be overstated."
David Menning (FCAS 1986) started volunteering in 1987 on the Examination Committee, where he has since served several terms as vice chair and a term as chair. His service has also included time on the Future Education Task Force, Education Policy Committee and Education Consultant Task Force. "With my teaching and coaching background, I felt it was important to get involved with the education of property & casualty actuaries," said Menning. "I had a passion to help educate actuaries to become quality professionals and therefore I spent most of my volunteer time in the Admissions area." From 2008-2011, Menning served on the CAS Executive Council as vice president-admissions.