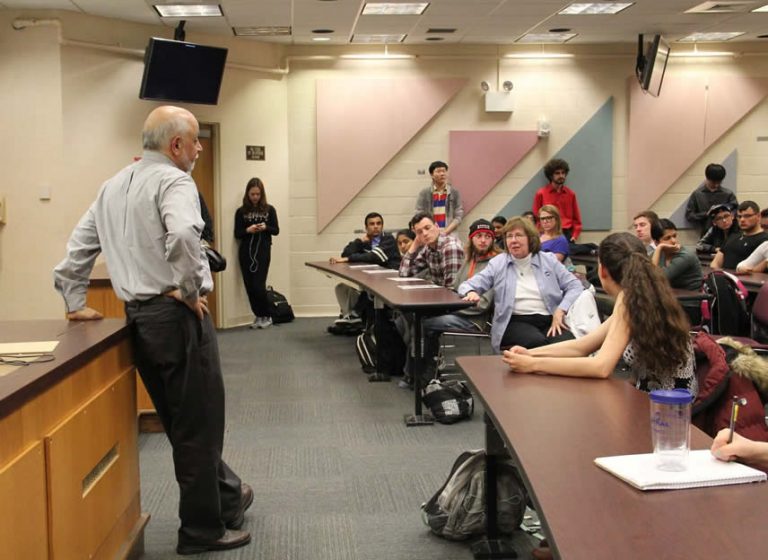 As part of their on-going university engagement efforts, CAS leaders traveled to Iowa and Connecticut earlier this year to meet with actuarial students and faculty.
CAS President Steve Lowe visited Drake University on February 24 to discuss the CAS's strategic initiatives and highlight the resources the CAS has to support students interested in pursuing a property-casualty industry career.
"Drake students enjoyed hearing about the opportunities available as a casualty actuary both inside and outside the insurance industry, said Susan Watson, interim assistant director of Drake's School of Actuarial Science and Risk Management. "Steve used an example of vehicle data assisting in claim investigation that was very interesting to the students. They also appreciated hearing about various roles and projects that Steve had worked on in his career, as well as ways that Steve felt his job had made a meaningful difference."
On February 29, CAS Immediate Past President Bob Miccolis visited the campus of the University of Connecticut, speaking to actuarial science students and professors about the CAS and the many resources offered to students through CAS Student Central, the organization's free membership program for students.
Miccolis also shared insights about his career and the property-casualty industry. "This is an exciting time in the insurance industry, with evolving technologies creating new professional opportunities. Young professionals also have more resources at their fingertips than ever before," Miccolis said.
The CAS Student Central program was launched over two years ago with the goal of guiding students through the maze of curricula and rigorous exams that ultimately lead to a challenging and rewarding careers as property-casualty actuaries. The program currently has over 4,000 members and recently launched a pilot initiative, the CAS Student Central Ambassador program, at 12 universities to identify and cultivate leaders at the student level.
"The visit from Bob was a huge success. Not only did we get to learn about the CAS, we also heard insights from his career that were valuable to all in attendance," said Rob Tavernier, actuarial student, and CAS Student Central Ambassador at the University of Connecticut.
Both Drake University and the University of Connecticut are participants in the CAS University Liaison program, which matches CAS members with academics and students to provide direct support from a practicing actuary. The program also helps facilitate the partnership between the academic community and the actuarial profession.