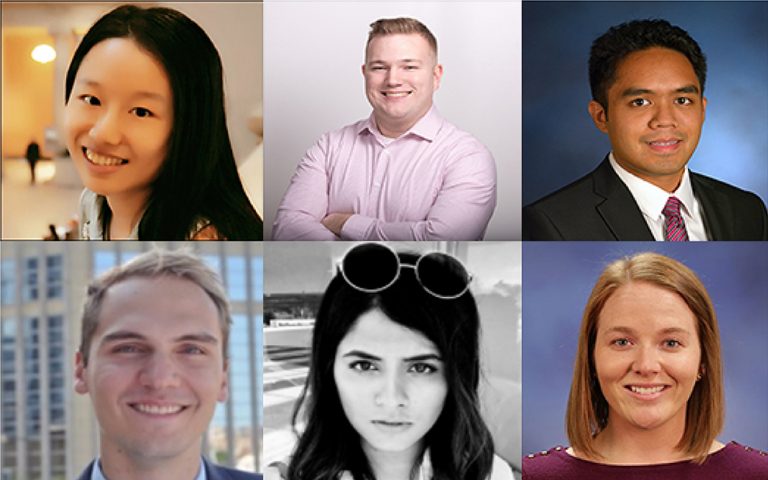 This past February, the CAS participated in the second annual Insurance Careers Month (ICM) campaign, alongside over 850 other insurance organizations that recognize the importance of attracting the next generation of leaders to the insurance industry. The campaign's theme is that insurance represents the "Career Trifecta" — stable, rewarding and limitless.
ICM was initiated in 2016 by Hamilton Insurance Group and its chairman and CEO Brian Duperreault, ACAS, MAAA, along with a handful of other organizations. InsuranceCareersTrifecta.org is the campaign's website and provides participating organizations with access, resources and tools to support their involvement.
Leading up to the kick-off to ICM 2017, a CEO Town Hall webinar was held to educate insurance professionals and organizations about the campaign. More than 1,000 participants from the United States, Canada, Bermuda and the United Kingdom heard insurance company CEOs discuss the industry's talent gap. Duperreault explained how critical it is to change the current image of the insurance industry to attract the next generation of insurance industry professionals. "Insurance should be catnip to millennials looking for a purpose-driven career. What other industry provides protection and security, or supports growth or recovery from disaster?"
Duperreault said that it is the job of the industry to explain what it does and why it matters. "We will be facing gaps in management and new talent that make it difficult, if not impossible, to meet the needs of the digital world we are living in. With the sharing economy, technological advances and associated emerging risks, this is the brave new world in insurance." He implored the webinar participants to help spread the word. "You've chosen a career in insurance, so yours is the best voice for other millennials to hear," said Duperreault. (Visit InsuranceCareersTrifecta.org to view the webinar and hear the full set of comments.)
Campaign supporters answered the call. During ICM in February, the number of companies participating grew from 600 in 2016 to 850 in 2017. Together, they created a strong online presence, using social media hashtags #CareerTrifecta and #TalentTuesday almost 3,000 times on Twitter, amounting to 10.9 million impressions throughout the month.
For the second year in a row, the CAS ran a Millennial Profile series in February in which millennial CAS members and candidates provided insights and advice for students about the insurance industry. Featured millennials shared why they became actuaries, why they'd recommend a career in the insurance industry, and what students can do now to prepare for a career in the industry. The profiles were circulated on CAS and Student Central social media platforms and can be viewed at CASstudentcentral.org.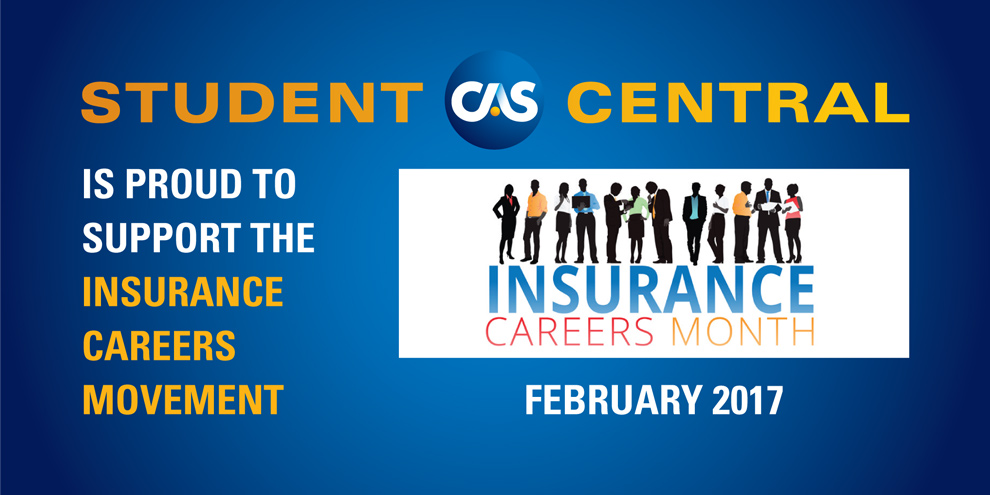 In addition, the CAS supported the movement by coordinating and encouraging activity among a coalition of insurance industry trade and professional associations, led by CAS Chief Communications Officer Mike Boa.
Other insurance organizations participated in a variety of ways. Gamma Iota Sigma, the premier talent pipeline to the insurance industry and sole international business fraternity for students of insurance, risk management and actuarial science, held two live tweet-chats as part of their month of many supporting activities. Swiss Re spread the word with a blog post and a video that encourages millennials to rethink the insurance industry. Hamilton Re launched a contest for Bermuda high school students, giving them a chance to learn what it's like to work in the reinsurance industry. Millennials across companies were highlighted in articles, including CNA's Eric Blancke, FCAS, an actuarial consultant featured in a LinkedIn article about the diversity of his work.
Insurance Careers Month and the broader year-round movement align well with the CAS's extensive ongoing university engagement efforts promoting the P&C career to millennials.
A dedicated network of more than 300 CAS members worldwide volunteer to bring awareness to university students about P&C careers through the CAS University Liaison Program. The CAS also offers a free student membership program, CAS Student Central, providing students access to actuarial exam prep materials, P&C internship listings, scholarship information and webinar and networking event invitations.
Visit InsuranceCareersTrifecta.org for more information on how your company can get involved in the movement.
Insurance Careers Month 2017 was led by Hamilton Insurance Group, Lloyd's of London, Marsh & McLennan, The Institutes, MyPath, Valen Analytics, The Jacobson Group, InVEST and PCI.