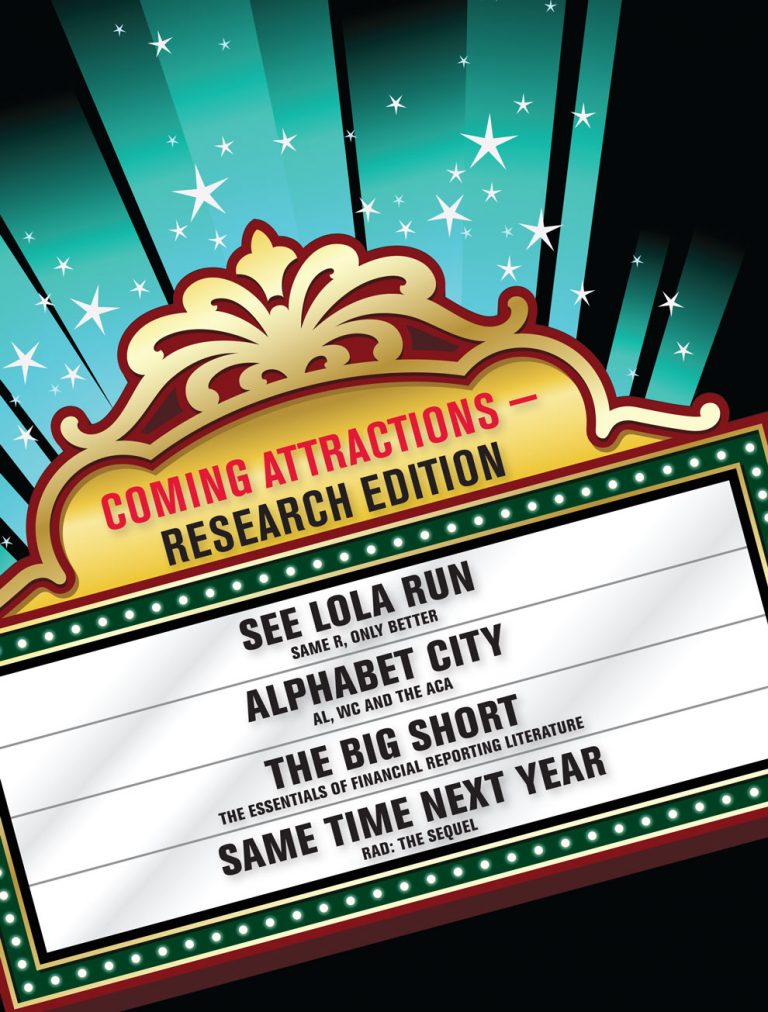 In a world where actuarial research is appreciated, even valued… one year stands out:  2016, a year of research premieres, sequels and remakes of old classics….
Summer has its blockbuster movies, while the fall brings more cerebral and potentially award-winning offerings — much like the CAS research projects premiering this last half of the year. These projects are deep and absorbing — the culminations of a lot of time, thought and effort from a number of volunteer committees and task forces as well as external partners. Here's a preview of some new releases.
See Lola Run
Same R, Only Better
For the uninitiated, R is a computer language and environment for statistical computing and graphics that can be quite flexible, enabling users to add and define new functions. R is a free software that can be used for a wide range of functions, including linear and nonlinear modeling, classical statistical tests, time-series analysis and classification and clustering. Other benefits include R's publication-quality graphics and its ability to run on a wide variety of UNIX platforms and similar systems, Windows and MacOS.
Led by Ben Escoto, FCAS, and Brian Fannin, ACAS, the Open-Source Software Committee is working on the R platform with plans to make it run R even better. The committee projects releasing their research in fall 2016. In the meantime, readers can learn more about R from the committee's wiki page at http://opensourcesoftware.casact.org/.
Snakes on a Plane
Although their emphasis has been on R, the Open-Source Software Committee is looking to explore other computer languages. In particular, at least one committee member has an interest in working with Python.
Alphabet City
AL, WC and the ACA
The CAS Health Care Issues Committee has teamed up with the research organization RAND Corporation to study the impact of the Affordable Care Act (ACA) on workers' compensation (WC) and automobile liability (AL) insurance. WC systems in the U.S. provide tens of billions of dollars in medical care each year, but relatively little is known about how changes in health insurance availability affect the incidence and nature of WC and auto injury claims. Using the ACA's young adult dependent coverage expansion and drawing on millions of hospital records from four large states with distinct WC systems, the researchers measured the effect of health insurance expansions on WC claim frequency and severity.
Some of the results of the AL study were presented at the 2015 Casualty Loss Reserve Seminar and the WC study at the 2016 CAS Spring Meeting. The final reports are scheduled for a late 2016 release, and there will be a webinar highlighting the WC results in late 2016 as well.
The Big Short
The Essentials of Financial Reporting Literature
The CAS Financial Reporting and Analysis Committee is charged not only with financial reporting, but also with evaluating the areas of actuarial work that support preparing, auditing and analyzing financial statement data. The committee has monitored changes and emerging issues in financial reporting and is attuned to research, models or practice methodologies that actuaries use in property-casualty companies, as well as other similar risk-sharing or risk-pooling mechanisms, including government-run programs.
To aid in its work, the committee appointed the Credit Risk Special Interest Section or CRiSIS to oversee putting together the compendium. CRiSIS contracted with Quantact, an actuarial and financial mathematics laboratory based in Montréal, to organize a set of resources on credit risk for the practicing actuary. The resources will be tailored to actuarial applications such as reinsurance credit risk, mortgage guaranty insurance and actuarial modeling of fundamental credit risk of assets/investments for cash flow modeling, intrinsic valuations of structured credits and enterprise risk management purposes.
The compendium includes articles, research papers, books, software and other tools. It will also contain sources for credit risk data that practicing actuaries may use, including public domain resources on default rates and severities/recoveries as well as subscription-based material. Quantact will evaluate the various contributions and present the topics most relevant for each area of practice. It is to be published in an upcoming issue of E-Forum.
Same Time Next Year
RAD: The Sequel
Like a venerated actor who can always be counted on to give an outstanding performance, the CAS Theory of Risk Committee (COTOR) delivers quality work, adding to its oeuvre time and time again. One of COTOR's most ambitious projects, the Risk Assessment Database or RAD, has been updated recently with information affecting non-life risk assessment compiled from 2015.
RAD began in 2010 as a natural extension of the work of the Risk Premium Project (RPP), an extensive, thorough and current analysis of the theory and practice of risk assessment for property-casualty insurance. RPP got its start in 2000 with RPP I, a review of actuarial and finance research done up until 2000. Because of the considerable development in the field, the project grew into RPP II, which extended the findings from RPP I with research done until 2010.
Martin Eling is RAD's developer and administrator who, along with a team of graduate students, updates the database annually. Eling's team is affiliated with the Institute of Insurance Economics at the University of St. Gallen in Switzerland and is funded by the CAS.
The recent update highlights the topics of reinsurance and behavioral insurance, with the objective of finding the relevance between the two topics and improving the efficiency of the reinsurance market and the design of reinsurance contracts.
In addition to classical insurance theories, the updates include practices deviating from the standard prediction that encourages applying behavioral methods. Specifically, the team investigated how people perceive risks differently than how risks actually are and the corresponding changes in insurance. The behavioral results offer more understanding of non-life insurance management.
For Eling's report on the latest update, visit bit.ly/RADUpdate2015. To learn more about the RPP and RAD, visit bit.ly/RPP_RAD.
---
Elizabeth Smith is a movie buff and managing editor for Actuarial Review.
1 "What's Driving the Claims Severity of Driverless Cars?" and "Future Innovations for Driverless Cars."
2 "Destination Driverless," Actuarial Review, November/December 2015, http://bit.ly/DriverlessAR15NoDe.
3 "Self Driving Cars: Dealership Opportunities," Car Biz Today, May 2016, https://issuu.com/cbt_news/docs/cbt_may16_pages_/28.
4 "Restating the National Highway Transportation Safety Administration's National Motor Vehicle Crash Causation Survey for Automated Vehicles," http://www.casact.org/pubs/forum/16sforum/.