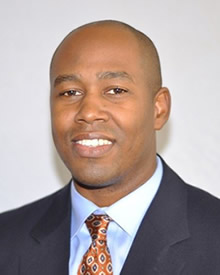 Victor R. Carter-Bey is the new CEO of the Casualty Actuarial Society.
Carter-Bey began work at the CAS Office on October 28 and will work with current CAS Executive Director Cynthia Ziegler until her departure on December 31. He will be formally introduced to the CAS membership during the CAS Annual Meeting's business session in Honolulu on November 11.
"I am humbled by this appointment and incredibly excited to begin my journey alongside the CAS Board of Directors, volunteers and staff," said Carter-Bey. "As workforce development is a critical element of global business, I am looking forward to the collective contributions we at CAS will make to influence the professional development and career trajectories of our current and future members around the world."
Carter-Bey is an accomplished senior executive with experience in credential development and commercialization, workforce value enhancement and member engagement. He was most recently director of certification at the Project Management Institute, where he oversaw the development and implementation of product growth and workforce development strategies to enhance member value and engagement for over 1,000,000 global professionals in the project management profession.
"After an extensive search, we are pleased to have identified the right person to bring the CAS into its next era of growth and success," said CAS President Jim Christie. "Victor's impressive background aligns closely with our own goals to create highly competitive and valuable credentials that remain the gold standard for property and casualty actuaries worldwide. We look forward to working with Victor to continue delivering exceptional programs, credentials and resources to our members and their employers."
Carter-Bey has a Doctor of Management from University of Maryland Global Campus in Adelphi, Maryland, and an MBA from the New York University Stern School of Business in New York City. He also holds a bachelor's degree in political science from Johns Hopkins University in Baltimore, Maryland.