School Ties: Olson Connects with Students through University Outreach
Full disclosure and fun fact: The author of this article is the sister of the featured member, Erin Olson, FCAS.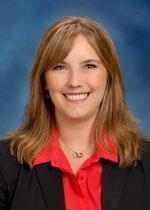 As soon as she became a CAS member, Erin Olson, FCAS, knew she wanted to volunteer. Olson chairs the University Engagement Advisory Working Group (UEAWG) and has been a part of the working group since its establishment in 2013. Her full-time role is director of property claims decision science analytics at USAA. 
University outreach resonated with Olson. "I came from a school and a part of the country where not very many people know what an actuary is," she said. "I knew there had to be a lot of people like me out there." 
She first volunteered to help build the initial Auto Safety Features Case Competition toolkit. Later she was asked to serve as the vice chair and then chair of the broader UEAWG, where she has been able to steward the work of all the task forces. 
To Olson, leading volunteers is the most exciting and rewarding kind of leadership there is.  
"Everyone who volunteers gives up their time for no reason other than to support our goals to promote the career of actuarial science and to provide opportunities to help students become successful," Olson said. "We challenge each other to share new ideas to reach students and professors. Then we get to work with our amazing CAS staff team who bring all those ideas to life."  
Olson credits the CAS Volunteer-Staff Framework as the secret to the UEAWG's success. 
"We come up with content for course work or case competitions, and the CAS staff makes it look professional and ensures that it reaches the desired audience," Olson said. "We put together a framework for what a summer program would look like and what pieces would have to come together, and our CAS teammates put that puzzle together. This makes for highly engaged volunteers that want to challenge themselves and each other to keep coming up with new ideas because we are confident that the staff will deliver a world-class product." 
Student ambassadors
Olson is particularly excited about getting to meet the young people who serve as student ambassadors. The CAS hosted an in-person event for the student ambassadors at the 2022 CAS Annual Meeting. These students are liaisons between the CAS and other actuarial students at their colleges and universities. Ambassadors champion the CAS message to their fellow students and help promote webinars and other resources that the CAS makes available. Currently, over 30 students from more than 20 universities volunteer on their campuses. 
"We challenge each other to share new ideas to reach students and professors. Then we get to work with our amazing CAS staff team who bring all those ideas to life."
"This student leadership program gives students across the country the chance to learn from each other about what makes each of their universities' actuarial programs successful," Olson said. "We first brought together student ambassadors at the 2018 Annual Meeting and had intended to hold this event every other year before COVID-19 derailed that plan for 2020." 
Student Central Summer Program
The CAS Student Central Summer Program is a point of pride for Olson. It came about from a need to help students whose internships had been cancelled in 2020 due to the pandemic. The online program, designed by practicing actuaries, supports students' career growth by providing technical and soft skill development, as well as mentorships and networking opportunities. Over 750 students have participated in the program since its inception.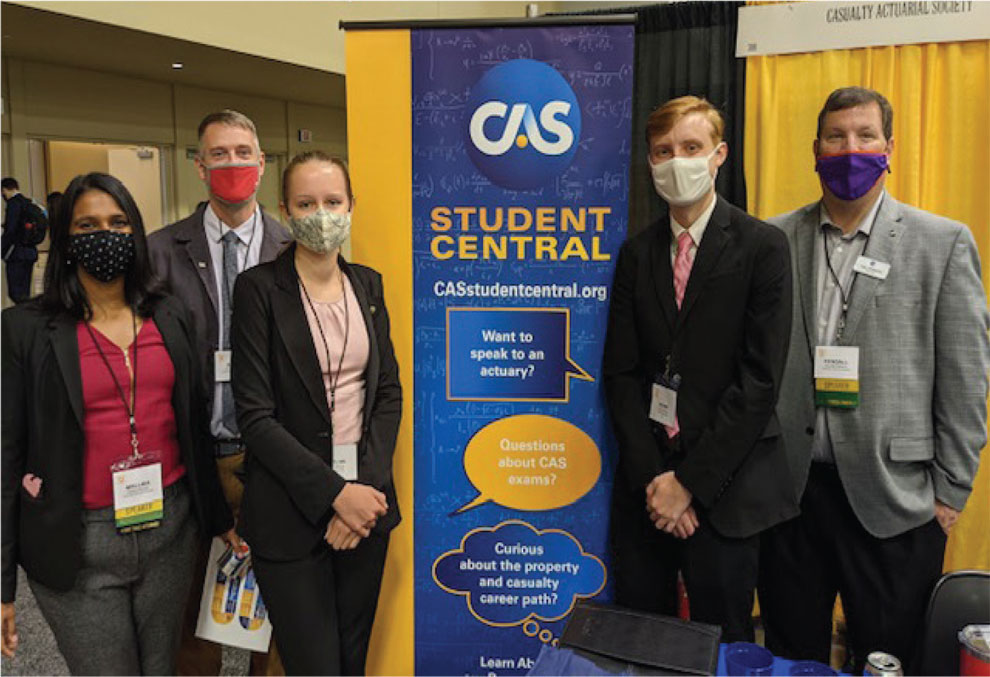 "We had no idea if there would even be enough interest from students for it to be successful, but we were quickly overwhelmed by the response. After all the positive feedback coming out of that inaugural year, we knew we really had something and wanted to keep it going." 
In the two summers since, the target audience has shifted to students who were unable to secure paid summer internships. The program enables these students to have experience that will make them strong candidates for future internships and entry-level positions. The program's virtual platform can reach a diverse group of students around the world, many of whom don't have access to the same kind of employer recruitment available to students at schools with well-established actuarial programs. 
Olson sees this program as a key element in achieving the strategic goal to diversify the pipeline. She saw firsthand the effectiveness of the Student Central Summer Program at the employer networking event at the end of the eight-week program. "It was so exciting to see the dozens of employers there engaging with these students and sharing with them valuable tips for pursuing a successful actuarial career," Olson said. 
Case competitions
Olson returned to her CAS volunteer roots with her work on the working group's Case Competition Task Force, which recently hosted its first virtual multi-school case competition. CAS University Liaisons helped identify schools that had not previously hosted a CAS case competition. In total, five teams across four universities signed up to participate in the competition: Baruch College (two teams), Brooklyn College, Roosevelt College and the University of Manitoba. 

In the first week, a kickoff meeting was held to introduce the case and field questions. Participants were then given access to a CAS volunteer team advisor who watched them practice their presentations and offered feedback to prepare them for the event day. The event culminated with the online case competition presentations and an award ceremony designating the first place prize of $2,000 to Baruch College Team 1, the second place prize of $1,500 to University of Manitoba and the third place prize of $1,000 to Roosevelt College.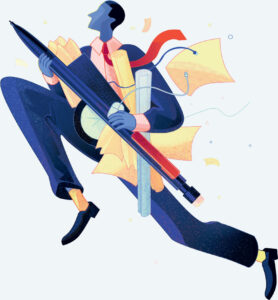 The task force has created five different toolkits that universities can use to run their own case competitions and  is working on a new toolkit that will be ready at the end of 2022. 
Olson is also excited about the new Ratemaking Case Competition toolkit that is well underway. It will replace the Auto Safety Features toolkit that has been used extensively by numerous universities as well as by the CAS Student Central Summer Program over the last eight years. 
CAS Trust Scholarships
Olson also oversees the CAS Trust Scholarship Task Force, which reviews applications for those applying for a scholarship. This task force maintains and updates the application to make sure it remains relevant and collects pertinent information, so they can accurately award the scholarships. In total, 75 students have been awarded scholarships totaling $266,000. (See "CAS Trust Scholarship Winners — Where They Are Now" for more on some past recipients.)  
"The task force relies on a personal statement from each candidate in order to award scholarships based on not only their demonstrated achievements (e.g., exams and internships), but also on their potential for success in an actuarial career," Olson said.  
The CAS awards up to eight scholarships each year — four $5,000 scholarships and four $2,500 scholarships. 
Other task forces include the Student Programs Task Force, University Awards Task Force and the University Liaison Task Force.  
The aptly named Student Programs Task Force runs student programs at in-person meetings. During the pandemic, they built out virtual student programs. They set students up with mentors for the day, held a networking event and recommended certain sessions for them to attend. They also facilitate the student ambassador program at priority schools and some of the target schools.  
Each year, the University Awards Task Force awards up to three universities for their achievements in exposing students to the P&C insurance industry through curriculum, research, engagement and innovation.  
The CAS University Liaison Task Force was established in 1999 and has grown to 200 CAS members who have volunteered to be liaisons to over 130 colleges and universities around the world.  
"There is great importance in building relationships with our schools," Olson said. "We want to get to know the professors and understand the challenges they face in preparing students for their careers after graduation. Developing a personal connection helps these partners feel more comfortable reaching out to the CAS and asking for resources and guidance." 
The University Liaison Task Force matches CAS members with a university to provide academics and students direct support and guidance from a practicing P&C actuary. The task force helps facilitate the partnership between the academic community and the actuarial profession. 
Goals and aspirations
Olson's objective for the University Engagement Advisory Working Group has always been to make resources available to any motivated student with the aptitude and creativity to thrive in an actuarial career. 
"In searching out innovative ways to promote the P&C actuarial career path to a larger audience of talented university students, it is important that our message remains consistent," Olson said. "No matter the target student audience, we want to provide the same resources that would make any student successful in their career. Partnering with the Diversity, Equity and Inclusion (DE&I) Committee helps us better understand the barriers for some underrepresented groups so that we can more effectively market our materials to reach these audiences." The CAS has University Liaisons who support approximately 200 schools, the number of which is growing.
Olson explained that the CAS efforts in advancing DE&I is critical to the success of the working group. 
"I am so thankful to have stumbled into this career, having come from a small school without an actuarial program. I want to share these opportunities with as many students as possible."
Olson believes that CAS DE&I efforts will sustain a strong pipeline of future CAS members. "It helps us credibly establish and solidify the CAS as a major presence among universities worldwide," Olson said. She pointed to evidence such as the CAS's strong university partnerships, the widespread incorporation of P&C concepts into actuarial science curriculum, the use of CAS resources and the continued interest from students in pursuing CAS credentials.  
Gratitude
Olson deeply values and appreciates all the work her vice chair, Jaris Wicklund, FCAS, and the chairs of the working group's task forces have put in throughout her tenure, acknowledging that all the progress the working group has recently made has been under their strong leadership. These members include Brett Jaros, FCAS, CAS Trust Scholarship Task Force; Courtney Rohde, FCAS, Case Competition Task Force; Allison Newhouse, FCAS, Student Programs Task Force; Anson Lo, FCAS, University Award Task Force; and Jamie Doyle, ACAS, University Liaison Task Force. She is also grateful for the CAS University Engagement Manager and Staff Chair Margaret Gaddy. 
For Olson volunteering is a truly rewarding experience where all participants are working toward the same goals in ways that they may not find in other organizations. 
"I am so thankful to have stumbled into this career, having come from a small school without an actuarial program," she said. "I want to share these opportunities with as many students as possible." 
Visit the AR Web Exclusives page to watch Olson's full interview.
Story updated December 1, 2022.