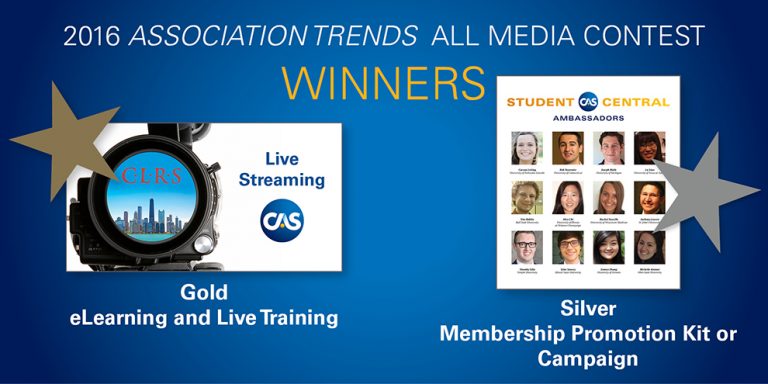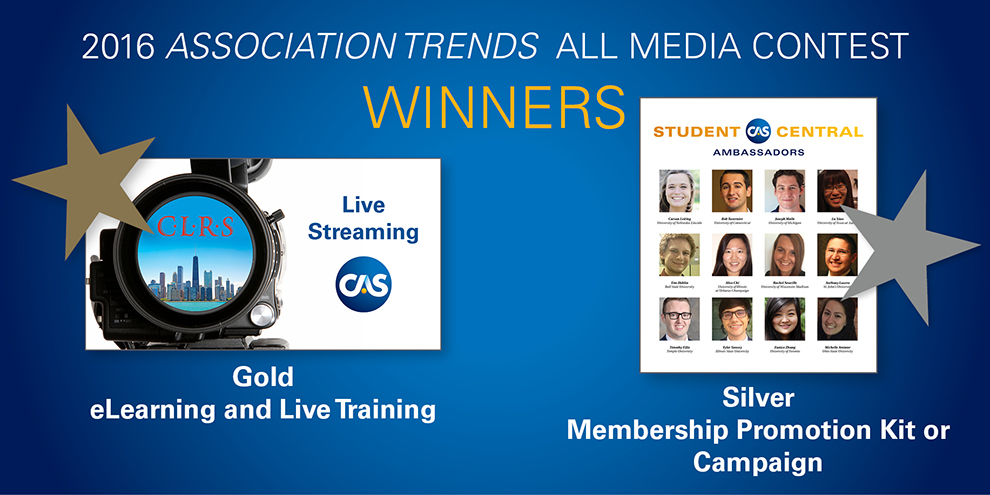 The CAS was recognized for outstanding membership and e-learning programs by the 2016 Association TRENDS' All Media Contest during the annual Salute to Association Excellence celebration in Washington, D.C., last March.
The annual competition acknowledges the most creative and effective communications for associations.
The 2016 Casualty Loss Reserve Seminar (CLRS) Livestream event received a gold award in the category of eLearning and Live Training. The CAS Student Central Ambassador program received a silver in the Membership Promotion category.
The winning entries were among more than 400 entries submitted in the 2016 competition.
The 2016 Casualty Loss Reserve Seminar (CLRS) Livestream event offered participants the opportunity to attend and interact remotely in six seminar sessions.
In 2015 the CAS began livestreaming select sessions from its conferences and seminars as a convenient way for members to affordably and conveniently earn continuing education credit.
Offering "hybrid" events (with both a virtual and face-to-face component) has enabled more members to participate in CAS professional education programs. The sessions live-streamed at the 2016 CLRS event ranged from hot topics — such as climate change and its effect on risk management — to more traditional actuarial topics — such as analytics and machine learning. The event also included an evening session aimed at the CAS's fast-growing international audience in Asia.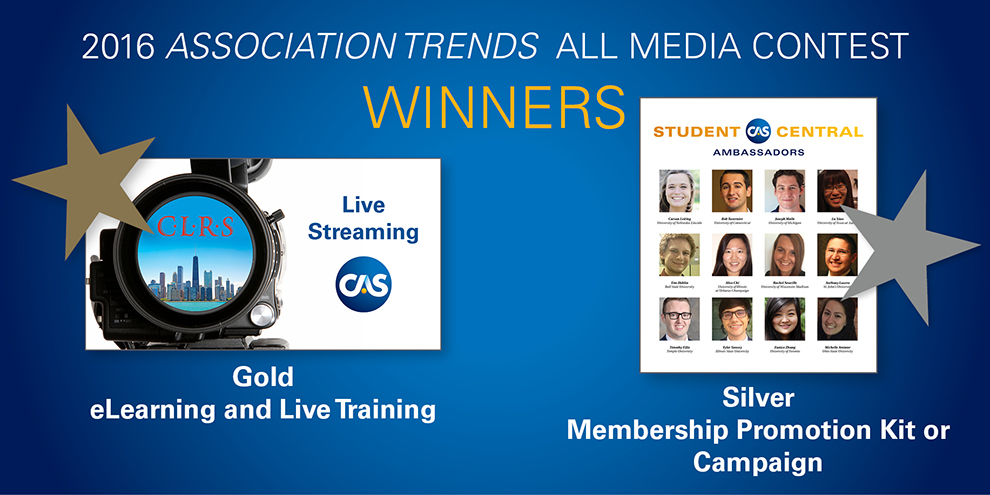 The CAS Student Central Ambassador program, piloted in 2015-16 and now in its second year, was launched in response to the continued growth of CAS Student Central, the free membership program for university students pursuing a career as an actuary. In order to increase the reach of CAS Student Central and continue building on-campus engagement, the CAS piloted the Ambassador Program at 12 colleges and universities. Twelve exceptional actuarial students served as CAS Ambassadors, with the goals of increasing the awareness of CAS Student Central among their classmates and strengthening CAS ties to the university. Ambassadors hosted on-campus events featuring CAS member speakers, provided information to fellow students, and spread the word about the actuarial profession as a career choice.
"It is an honor to once again be recognized by Association TRENDS for our member services and marketing and communications programs," said Mike Boa, CAS chief communications officer. "Our professional education department has developed a convenient way for members to participate in learning opportunities they would not otherwise be able to attend. Our university outreach efforts continue to expand with the addition of our student ambassadors; we embrace the opportunity to have these bright and talented individuals as new additions to the strong volunteer culture of the CAS."
Association TRENDS is the national newspaper for association executives and suppliers, spotlighting the latest news, information and trends in association management for the professional staff of international, national, state, regional and local voluntary organizations.
For a complete list of 2016 All Media Contest winners, visit the competition website. ●