The following vignettes capture the insights and perspectives of those who celebrated at the CAS Centennial — a truly one in one hundred year event!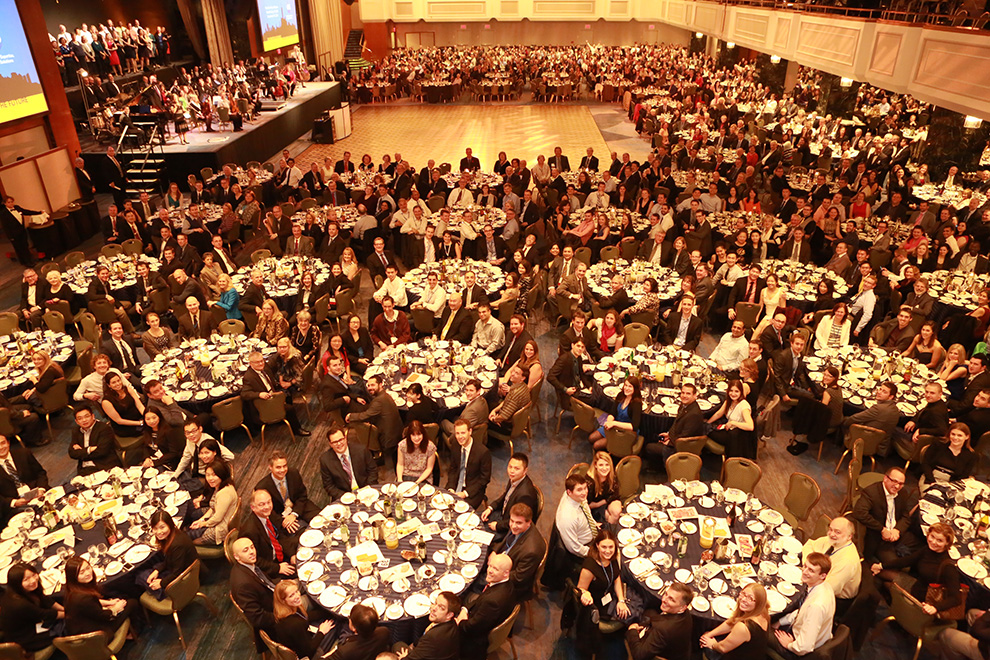 The Casualty Actuarial Society celebrated its first century during the sold-out CAS Centennial Celebration and Annual Meeting, held Nov. 9-12, 2014, at the New York Hilton Midtown. The meeting, which hosted a record 2,000 attendees, paid tribute to the CAS's integral role in the evolution of the property and casualty insurance industry while looking forward to the future of the actuarial profession with an educational program focused on emerging issues.
The 100-year history of the CAS was on full display at the meeting, which included a CAS Museum, historical photo gallery, and wall of names displaying every member who has ever earned CAS credentials. Attendees received a commemorative CAS Centennial History Book that features historical photos and personal recollections from CAS members. The CAS also debuted a Centennial video that highlights milestones from 100 years of the CAS and includes testimonials from the association's oldest living member, 96-year-old Bill Wieder, who earned his Fellowship in the Society in 1947.
The meeting showcased the CAS's continued commitment to fostering the next generation of property and casualty actuaries. The CAS recognized 263 new Fellows, 430 new Associates, and nine Chartered Enterprise Risk Analysts at the meeting, bringing the Society's membership to more than 6,500. [See page 16-27 for group photos of the new Fellows, Associates and CERAs.]
The meeting also included a full day of activities for university students who are members of the CAS's student membership program, CAS Student Central. Three of these students, one each from St. Johns University, University of Wisconsin–Madison, and University of Connecticut, were recognized at the meeting for receiving CAS Trust Scholarships totaling $20,000.
The meeting featured a robust agenda of educational sessions, including four general sessions, 41 different concurrent sessions and nine roundtable discussions. Topics addressed included the future of the insurance industry, big data, automated vehicles, climate change, reinsurance markets, the Affordable Care Act, homeowners and auto insurance telematics, and cyber risks. [For more on the meeting sessions, see Professional Insight.]
The celebration culminated with a gala dinner, where attendees were treated to a musical performance by an orchestra and chorus comprised of actuaries. As part of the historic celebration, the CAS also hosted 16 leaders from international actuarial organizations around the world and honored 30 past presidents in attendance.
More than one-third of CAS members volunteer for the organization, and the CAS presented several awards that highlight the membership's commitment to giving back to the profession. [See Member News for more on the CAS award winners.]
The CAS also recognized achievements in actuarial research. The 2013 Variance Prize, which recognizes the best papers published in the CAS's peer-reviewed journal, Variance, was awarded to Harald Dornheim and Vytaras Brazauskas for their paper "Case Studies Using Credibility and Corrected Adaptively Truncated Likelihood Methods." [See Actuarial Review, November-December 2014.]
"Our Centennial Celebration demonstrated that the CAS community is strong, vibrant and more relevant than ever," said Wayne Fisher, outgoing CAS president. "We continue to grow and evolve to provide our members with the problem-solving and specialized skills that employers expect. Our members have a shared depth of training in dealing with P&C risks that continues to strengthen, even a century after the organization was founded."