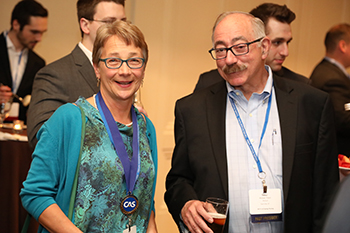 This past spring, the CAS welcomed the class of May 2017: 319 new ACAS, 52 new FCAS, four new FCAS by Mutual Recognition and three new CERAs.
Cheering them on was Mike Fusco, FCAS, a past president of the CAS, who gave the address to new members. The following is an excerpt from his speech that addresses the question, "So now what will you do?"
Volunteer … I encourage you to volunteer to help the CAS …but also volunteer at your workplace … You will learn more and faster and will be recognized and rewarded for it.
Embrace change. You will have far more opportunities to work internationally than your predecessors did. Learning new languages and cultures will be exciting and valuable to you. You can also work within the insurance industry in other than pure actuarial positions … Or you can go outside the industry …
Work hard, especially on communication skills … Your work ethic will be noticed and will allow you to get better assignments. And be sure to focus on communications skills because getting your message across is just as important as developing the message.
Remember three little letters … LOL. Laugh out loud! Have a sense of humor … whether you are an extrovert or an introvert. Don't take yourself too seriously. But show how much you are enjoying your work.
Whether you are just starting out or "well-seasoned or somewhere in between," Fusco's advice is timeless.