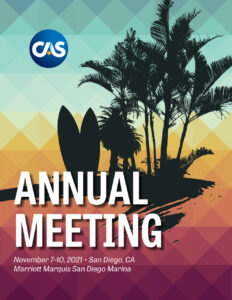 In November 2021, the CAS met for its first in-person meeting since the beginning of the COVID-19 pandemic. At the 2021 Annual Meeting in San Diego, the CAS honored all the people who earned their designations during this remarkable time in history. Following are the new Associates of 2020 and 2021. AR will feature the new Fellows of 2020 and 2021 in an upcoming issue.
---
New 2020/2021 Associates not shown: Spencer D. Adams, Imran Ahmed, Jacob Alexander Akstins, Gabriel Alepin, Donald Glenn Allan, Kevin Appenzoller, Nicholas Araujo, Kathryn R. Ardinger, Neha Arya, Jarred Matthew Bakker, Ildiko Ban, David Barmore, Frank R. Bartoszak, John Bautista, Matthew C. Beamon, Mehdi Ben Hamouda, David S. Benusa, Rafael Bergerman, Zachary F. Bergstrom, Samuel J. Bermke, Krystin Bernacki, Joseph Robert Bernard, Dylan Bernklau, Lukas Bertsch, Michael Jonathon Blake, Kevin Blessing, Diana Bochnik, Jordan C. Bonner, David Thomas Boon, Kyle Christopher Borgman, Benjamin Kent Bostick, Benjamin Paul Bradley, Jonathan Brand, Michael Casey Branson, Erin Bretzman, William Britt, Timothy Brown, Samuel A. Bruning, Kathryn Elizabeth Burke, Jacob Burns, Michael Gary Byndas, Antoine Cabrera, ChongMei Cai, Ningxi Cai, Connor R. Cain, Agatha Siobhan Caleo, Daniel Camargo, Jacob Alan Carter, Kyle Casalla, Emma Casehart, Michael Thomas Cathcart, Alexandre Chabot, Haskell Chai, Veronica Chan, Marcella A. Chandler, Chin Chang, Hsuan Wei Chang, Waleed A. Cheema, Mengna Chen, Mingyang Chen, Shibo Chen, Wei Chen, Gengsheng Cheng, Timothy Cheng, Aleksandr Chertok, Chor Kit Cheung, Raj Chittal, Albert B. Choi, Angela S. Chokran, Meng Xuan Chu, Yen Wei Chu, David Chung-Chum-Lam, Christopher Charles Clickner, Colin Closson, Matthew Colagreco, Andrew Adams Colella, Caylie Connelly, Cameron Luke Cooper, Jasper R. Cooper, Alexa Cosenza, Francis Costanzo, Alyssa Coulson, Andreea Cretu, Stephanie A. Crowe, Jessica L. Crumrine, Katherine Ann Curran, Emel Dalgic, Patrick William Darcy, Joseph DeCapua, Dominic Defuria, Alex David Denfeld, John M. Denterlein, Lalith Devireddy, Stephen DiCillo, Ryan R. Diedrich, Connor Louis Dietrich, Louisa M. Diggins, Emilie Dionne, Katelynn Doherty, Ryne Logan Dolney, Fan Dong, Ji Cheng Dong, Kayleigh Donnelly, Andrew K. Douglas, Joseph P. Drennan, Yingjun Du, Joseph W. Dunham, Rebecca Ann Dunn, Mario R. Edwards, Jacob Francis Eilerman, Enxhi Elezi, Kristen Endrizzi, Alana Ergui, Olivia I. Esterlis, Philip David Etheridge, Casey Evans, Jamie Alison Eversdyke, Shuyuan Fang, Elizabeth Faucher, Shihui Feng, Cristina Marie Fernandez, Janeth Fernandez Ramos, Thomas Ferrigno, Alex Filiakov, Timothy Edmond Fischer, John Alexander Floden, Matthew Alan Ford, Molly April Frantz, Raphaelle Freniere, Matthew Friend, Brandon Funk, Frederick E. Galloway, Matthew Garabed, Sassnios A. Gebrai, Nicholas Arthur Geiger, Jessica Lynn Gerdes, Ali Ghazi, Andreea Gheorghita, Sunghee Gill, Samuel Thomas Gilmour, Dana Gionfriddo, Drew Gordon, Stacie R. Gorecki, Jacob R Gottier, Brandon A. Grangruth, Benjamin P. Griffith, Ian Grosso, Long Gu, Charles M. Hale II, Andrew Hancock, Brent Anthony Hanson, Hiromasa Alex Harada, Joenathan Ferio Hardi, Gregory Philip Harris, Jason Tucker Hartman, Keven He, Shelby Heinemann, James A. Henry, Bailey Michelle Hescock, Gayle Lynn Hilyard, Kristen Hoffman, Cory Hogan, Bryan Hong, Frederick Martin Horsman, Heather Howes, Hsin-Haw Hsu, David Hu, Jia Hu, Po Hu, Yiqun Huang, Yu-ping Huang, Meredyth Gwynn Hurlbert, Shiraz Hussain, Ismet Ibadullayev, David D. Idoux, Nicholas Iwan, David Jacobson, Bobby Jaegers, Preamini Jeevaharan, Emily Sarah Jeffrey, Bailey E. Jenson, Kihoon Jeong, Li Jiang, Jessica E. Joyce, Jennifer Jung, Thitiwat Kaewwattanaborworn, Stephen Paul Kallenbach, Uktamjan Kamilov, Stephen Kane, Daniel Kang, Huiying Kang, Chad D. Karczewski, Daniel Michael Karr, Helen Karsiotis, Bakeeshan Kathirchelvan, Michael Anthony Kelch, Jeffrey Lyle Kessin, Andrew J. Kiel, Sean Kirwan, Brian Knapp, Erica Knoll, Benyamin Kosofsky, Julia Kosta, Daniel Z. Kozlowski, Hannah Kramlik, Brian Paul Krawczynski, Nicolas Lai, Ting Hei Adrian Lai, Guillaume Lallemand, Matthew T. Lam, Christopher J. Lambert, Benjamin Jay Landes, Ethan Michael Lange, Joel David Lara, Andrew Michael Lear, Soo-Jin Lee, Rhys P. Leonard, Mengyi Li, Raymond Li, Shanshan Li, Shushangxuan Li, Ziru Li, Jonathan Lim, Michelle Chu Luan Lim, Chenze Lin, Kevin Ka-wing Lin, Qianhui Lin, Si Wei Lin, Siyu Lin, Nathan Patrick Lindsay, Yun Ling, Alvin Liu, Luyin Liu, Shujun Liu, Sijun Liu, Xiaoxia Liu, Yiqun Liu, Ian Michael Long, Walter Erik Loteczka, Jeremy Loukas, Hoi Ching Lu, Karen Lu, Benson Chek-Long Lung, Yan Luo, Sovanna Ly, Susan Melissa Mace, Mark A. Maenche,
Madeline Elizabeth Main, Justo Steven Maldonado, Kyle Joseph Malec, Kristen Marshall, Tiffany Marthin, Alec Martini, Alexis Linn Martini, Thomas McCarthy, Clinton James McCullough, Isabelle McCullough, Benjamin G. McGonegal, Stephen A. McMillan, Thomas Joseph McNamara, Lisa Danielle McSharry, Jeremy D. Medina, Arya Mehta, William Joseph Meidenbauer, Benjamin B. Mesick, Joshua Meyers, Hayden H. Mierl, Matthew D. Miles, Lawrence G. Miley, Christopher John Millelot, Raleigh Rebecca Miller, William Floyd Miller, Nigel L. Millick, Mark Miresse, Michael Mirrione, Maria Raluca Morosan, Justin William Morris, Nicholas P. Mosur, Andrew M. Moulakis, Pearwa Mukyangkoon, Victoria Mullane, Matthew John Murray, Annika Sofia Nebe, Courtney Nelson, Stephanie L. Nemerofsky, Philip Nenni, Kasey Ka-Chuen Ng, Ngoc Thuy Anh Nguyen, Jiajing Ni, Skylar Nicol, Robert Noehammer, Joseph Michael O'Connor, Suna J. Oh, Wei Lai Oh, Michael Olczyk, Samuel R O'Neill, Florina Or, Allan Ouyang, Justin M. Panther, Daniel Youngjin Park, Youngok Park, Genevieve Allyn Parks, Ben William Parrish, Kevin L. Pascal, Arpita Patel, Daniela Paykin, Long Peng, Jacqueline C. Perfetti, Kevin Jacob Perlitsh, Vijay T. Persaud, Destin Michael Peterson, Max Nathaniel Peterson, Christopher A. Petty, Colin Charles Piscitello, Matthew Edwin Pittard, Joshua M. Pomerantz, Mitchell Post, Sabina Preda, Keith Quigley, Maxime Quimpere, Nicholas James Ranallo, Kethan Reddy, Ashley Ann Reilly, Tsirel Rennert, Tristan Rhodeside, Robert Ryan Riesenberg, Simon Rivard, Emily Elizabeth Roche, Erin Catherine Rodgers, Craig Dennis Rossiter, Marc Roulier, Patrick Rozgonyi-Schwartz, Evan Rudibaugh, Thomas Alan Ruetz, Chipo Runesu, Josef Walter Rutkowski, Woodrow Sabroske, Konstantin Sakherzon, Cameron Zaisser Salter, Angela Marie Sampson, David Allen Savoia, Desirae Alexandra Sawyer, Megan Schlosser, Hannah Schneider, Matthew W. Schoeller, David H. Schwartz, William Howard Schwartz, Jacob William Sechler, Yuliya Semibratova, Erin M. Sharkey, Aaron G. Shatz, Daniel Embra Shaw, Thomas Sheppard, Erin Sherman, Tingting Shi, Weisi Si, Brent Arthur Sianez, Jessica Smith, Patricia E. Smith, John Sobhanian, Betsy Southworth, Timothy Charles Specht, Elaine Michele St Germain, John David Stark, Thomas J. Stava, Julia Caitlin Stella, Logan Harris Stern, Robert Anthony Stiegemeyer, Christine Audrey Storms-Miller, Anthony Strazzara, Cameron Josef Studer, Sara Lynne Stull, Timothy Joseph Stump, Thamodaran Subramaniam, Lu Sun, Otto Sung, Hui Min Tan, Raymond Tan, Swarnima Taparia, Ryon M. Tartell, Christopher William Terrill, Noah Alexander Terry, Bradley Thompson, Steven Benedykt Tomala, Michael Peter Tomera, Neli Tomova, William Alberto Torres Amesty, Sonia Tougas, Alec William Trachtman, Issouf Traore, Daniel A. Traverso, Jennifer Leigh Tripp, Ming-Yen Tsai, Konstantinos Tsaousis, Danny Tshitumbu, Ashleigh Tufnell, Logan E. Turley, Patrick Alan Underhill, Emily Genereux Valcourt, German Valenzuela, Taylor Richard Van Laar, Michael Robert Vandertie, John P. Varnas, Sajid Suleman Virani, Nhat K. Vu, Joshua Waisgrus, Arianne Pardue Walker, Calvin Wang, Pei Wang, Qinliang Wang, Timothy Tian Tran Wang, Yun Zhi Wang, Wenzheng Wang, Philip Warner, Benjamin Nathan Welch, Patrick Wells, Steven Whalen, Kaitlin Marie Wheaton, John Timothy Wieland, Mitchell Owen Wiemer, Sarah Wiley, Brogan J. Williams, Brady Wallace Wilson, Leah Ann Windt, Nicky Inkrais Witras, Amanda M. Wolfgang, Erica Wong, Sebastian Mathew Wong Chi Jin, Katherine Wood, James Barrington Woolford, Frederick Wallace Wright, Han Xia, Chaoqin Xie, Xiaoyan Xie, Yaqi Xie, Fan Xu, Patricia Xu, Jia Xue, Alain Yaacoub, Haoxiu Yang, Qian Yang, Uk Yang, Wanyi Yang, Yabing Yang, Yi Yang, Jikai Yao, Annie H. Ye, Zhiyun Ye, Chase D. Yetter, Connie Yeung, Jiajia Yin, Chelsea Yost, Jia You, Xuan You, Jeron Young, Joshua B. Young, BinBin Yu, Brandon Ken-shing Yu, Guang Qu (Annie) Yu, Haoyang Yu, Jimmy Yu, Tony Ho Ching Yung, Nick Zaharopoulos, Stanley Michael Zalewski, Thomas Christopher Zdarsky, Edward Xiang Zeng, Huiru Zhang, Juntao Zhang, Ke Zhang, Mengqi Zhang, Nihui Zhang, Rui Zhang, Wenzheng Zhang, Weijing Zhao, Qin Mei Zheng, Yuqing Zheng, Yang Zhou, Chong Zhu, Adam Zimmerer, David Eric Zomber, Nabeel Saeed Zuberi, Danish Zulfiqar.